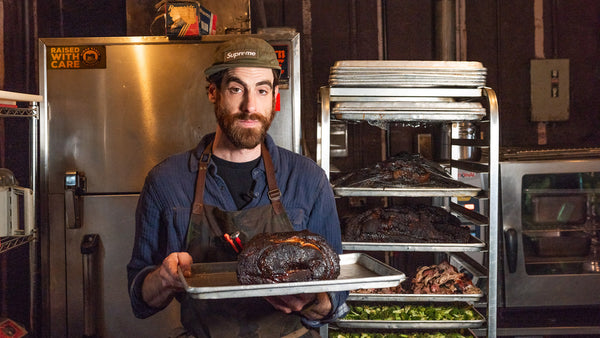 Fette Sau's Dry Rub Recipe
Fette Sau in Williamsburg, Brooklyn was one of the first BBQ joints in the US to feature exclusively heritage breeds on their menu. For nearly 20 years they have offered Berkshire, Red Wattle, Tamworth, and
Duroc 
Boston Butt
, 
Belly
, 
Bacon Ends
, and 
Ribs
 and
have been an anchor to Heritage Foods! Owner Joe Carroll explains in his cookbook Feeding the Fire "We use this rub on just about everything that we smoke at the restaurant, but you needn't follow the recipe exactly. Feel free to improvise on the ingredients and amounts, reducing the sugar for a less-sweet bark (crust), increasing the cayenne for a spicier one, and so one."
Ingredients:
1 ½ cups packed dark brown sugar
1 cup kosher salt
1 cup ground espresso beans
¼ cup freshly ground black pepper
¼ cup garlic powder
2 tablespoons ground cinnamon
2 tablespoons ground cumin
2 tablespoons cayenne pepper
Preparation:
Combine the sugar, salt, espresso beans, pepper, garlic powder, cinnamon, cumin, and cayenne in a resealable container, cover tightly, and shake well to combine. Store in a cool, dry place. The rub will keep for up to 2 months, at which point the coffee will begin to taste stale.