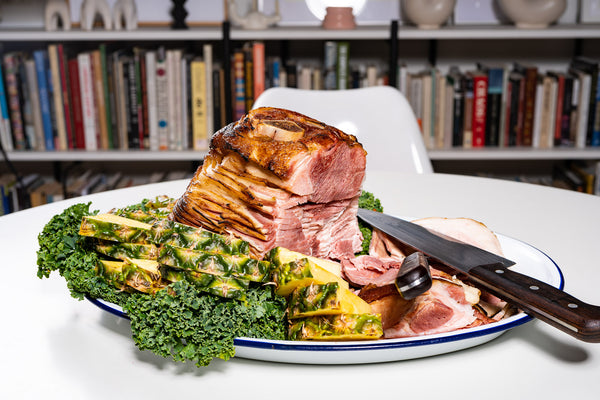 The Economics of Ham
There are few foods more American than 
ham
. We are a nation that eats 
ham
 steaks for breakfast, slices layered on a sandwich for lunch, and presented family style on platters for run-of-the-mill weekday dinners. On our most important occasions — from Easter and Christmas to birthdays and weddings — the nation's pork-eating cultures serve 
ham
 as a centerpiece. City 
ham
, Country 
ham
,
fresh 

ham
 — all are welcome at these tables.
All hams start off as massive, 20 to 30 pound lean roasts from the hind of a pig, two per animal. From there, ingenuity takes over. 
Roasting a
fresh bone-in 

ham
, the way one would a fattier
pork shoulder
, is an all-day endeavor. Lightly curing a 
ham
 with a mix of herbs, spices and some sweetness such as a
spiral 

ham
, transforms this workhorse into a vehicle for a myriad of local and regional ingredients. Covered in salt and dry-aged for years, a 
ham
 becomes
prosciutto
, a rare delicacy of the first order when treated properly by a true artisan and sliced so paper thin that it begins to melt as it hits the tongue.
As a nose-to-tail pig distributor, we love that 
ham
 is so universal. But while 
ham
 is ubiquitous, our wholesale buyers of 
hams
 are not. 
Hams
 take up a lot of space and because of the sheer time commitment needed to cure 
hams
 before they are ready for market — up to 2 years in the case of prosciutto — not many restaurant chefs are in the do-it-yourself 
ham
 game.
To offer some context, Heritage Foods has about 150 wholesale accounts with restaurants and butchers, but only seven major wholesale 
ham
 accounts.
Cesare Casella
is one. He buys the 
hams
, cures them and sells them back to us as a
prosciutto
.
Heritage goes where the 
ham
 goes, more than any other cut. It's the fate of any nose-to-tail operation, whether you are a farmer or distributor. Because the two 
hams
 on a pig total about 50-60 pounds of a 230-pound animal, the financials of the business are largely decided by how high a price can be commanded by the 
ham
.
Also, farmers and distributors like pigs to come in large — chefs for example love larger boston butts (shoulders), and large eyes on the pork loins (chops). But how big is too big? The 
ham
 buyers decide that — if the 
ham
 becomes too large, the 
ham
 buyer doesn't want it, for reasons that include the added time it takes to cure it. And when the 
ham
 buyer says no thank you, that is not a good thing!
This is a key reason that while most pig cuts come in only a few forms, 
hams
 come bone-in, boneless, halved, diced, spiraled, sliced, and shaved! We love the 
ham
 but we fear it too as it determines how our business proceeds. But just when we start to worry about it, we sink our teeth into a sliced prosciutto from
Volpi
,
Casella's
,
Broadbent's
,
Benton's
,
Edwards
or
Colonel Newsom's
and our worries seem to melt away — the sublime flavor is worth the hard work!