Tempesta Artisans – Chicago, Illinois
Tony Fiasche paints with flavor. He is a master artisan — the son of an Italian family from Calabria who has been curing salumi for five generations. Tony came up the old-fashioned way, learning every job from busboy to chef at his family restaurant, before partnering with his father Agostino to launch Tempesta Artisans. They began by specializing in their tantalizing 'nduja, a spreadable spicy Calabrian salami that is at the heart of their passion for uncompromised flavor. Tony has won many awards, including the Charcuterie Masters Grand Champion in 2016, and numerous Good Food Awards.

Tony's curing style has become fearlessly imaginative but still fiercely loyal to his family's traditions, from the bracing peppers he sources from Calabria, to his approach to chimichurri, the Argentinian marinade which inspired him to partner with Heritage Foods to create a premium line of exclusively heritage breed charcuterie and pre-seasoned roasts.

Look for a rotating menu of products on our site using Tony's signature recipes and our 100% heritage breeds raised on pasture including delicious Porchetta, Mortadella, Finocchiona and other salami, Culatello, Chimichurri and BBQ seasoned steaks, and his famous 'nduja!

S. Wallace Edwards and Sons – Surry, Virginia
Surry, Virginia has been home to the Edwards family since before 1926 when Wallace Edwards Sr. first started selling ham sandwiches on the ferry boat that carried folk to Williamsburg. Those $1 sandwiches would launch a multigenerational curehouse that is among the most respected food businesses in America. Producers of exquisite cured ham, bacon and sausage, Edwards Virginia Smokehouse is now run by Sam Edwards III and his son, Sam Edwards IV.

In 2005 Sam III was searching for a well-raised ham source. He missed the flavor of the cured hams his grandfather produced and wanted to find hams that could stand up to 500 days of cure — regular hams would turn to dust on the inside after just a few months. Sam's goal was to produce a traditionally smoked American ham that recalled the flavors of the long-aged hams produced in Europe like the Serrano of Spain. After years of testing with the heritage breed hams raised by the network of farms working with Heritage Foods, Sam had found the flavor profile (twang) he was looking for. He named his new creation Surryano, after his home.

Look for the renowned Edwards Surryano ham on our site as well as his amazingly flavored Hickory Smoked Sausage with fresh sage and red and black pepper.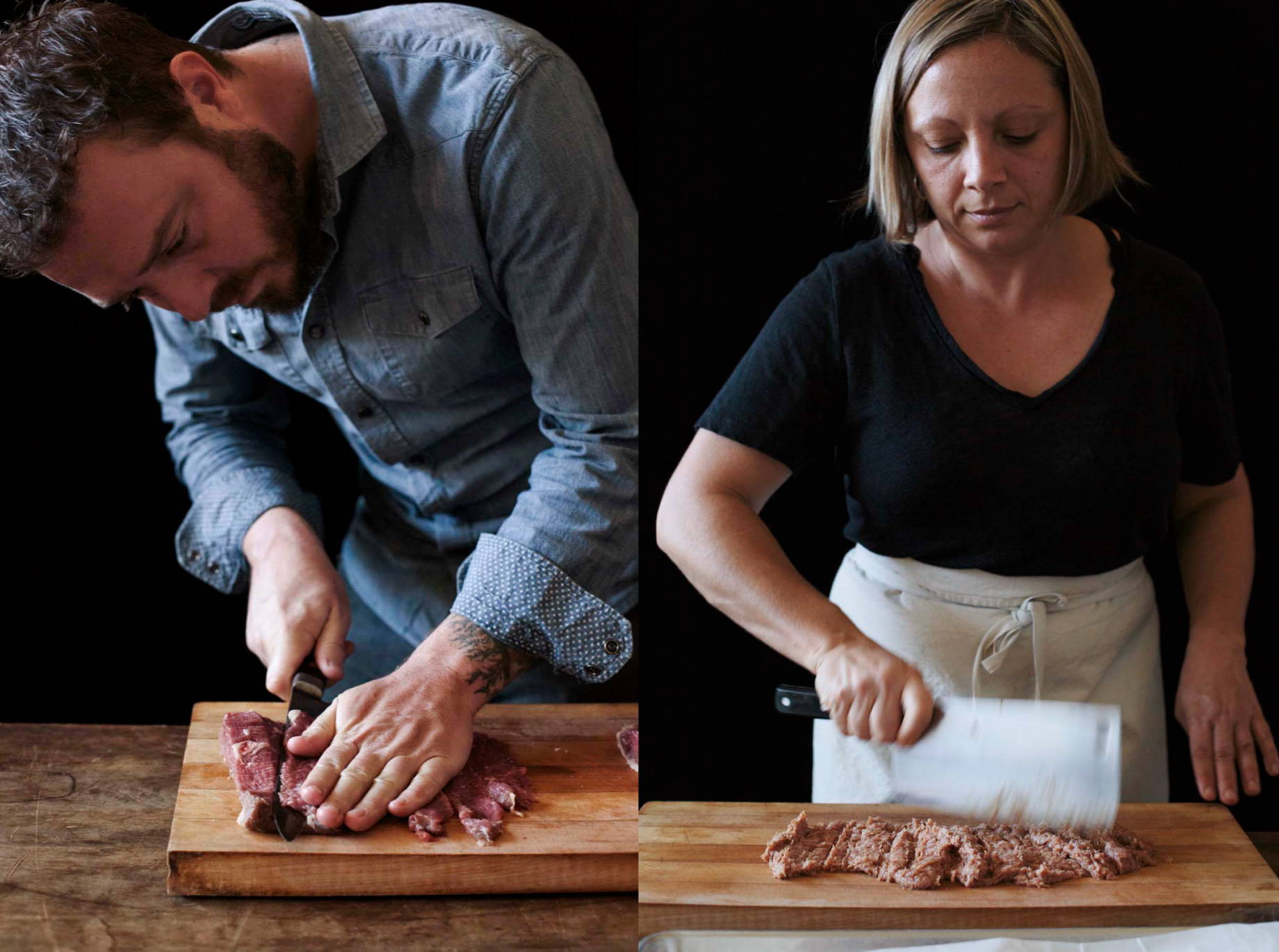 Fatted Calf - San Francisco, California
The Fatted Calf was one of Heritage Foods' first customers on the West Coast — we met them back in 2004 when Patrick Martins was traveling, and they talked about responsible, traditional, humane farming, and reaching out to the like-minded.

"It was an East Bay Connection," recalls Taylor Boetticher, who owns the Fatted Calf with his wife Toponia, "Alice Waters may have introduced us, and we immediately knew the pigs were better than anything we could find. At the time we were still doing just one farmer's market every week, and then we were doing a few, and it just blew up..."

Each week the Fatted Calf brings in thousands of pounds of heritage pork for their two butcher shops and retail line of delicious Fatted Calf bacon! Their two beautiful shops are located in Napa at Oxbow Market and in San Francisco on Fell Street. Their meat case is a testament to diversity both in the fields and in the curehouse.

Visit our Cured Meats, Bacon and Sausage Collections to try a number of their delicious creations including Fatted Calf Bacon, dry cured with an old-world salt-box method — including brown sugar, sea salt, and a bit of cayenne; Andouille Sausage; and three amazing salami, the first ever breed specific salami from Red Wattle, Berkshire, and Duroc pork — each breed paired with a different spice blend to create three distinct salami varieties.

Volpi Fine Foods – St. Louis, Missouri
In 1898, John Volpi arrived in America from his home in Milan, Italy, bringing with him little more than a craft and a vision. Having learned from his elders the ancient European art of dry curing, John had a dream of importing the centuries-old traditions across the ocean — thus continuing to serve his customers once they migrated to America.

In 1957, upon John's passing, his nephew, Armando Pasetti, took the helm of the company, which had become a thriving business. In 1980, he continued to meet consumer demand by bringing Volpi Foods national, and enlisted his daughter to help run the manufacturing plant. An eager pupil, Lorenza studied first-hand the techniques behind Volpi's premium meats — and supplemented her culinary expertise with an MBA from Washington University.

In 2002, exactly 100 years after John Volpi opened his business, Armando passed the torch to Lorenza. Now, as president of Volpi Foods, Lorenza continues to refine her great-uncle's craft while adhering to the techniques he brought with him to America more than a century ago.

If you love prosciutto like can be found in Italy, you will love the Volpi 100% heritage breed prosciutto boasting an intense earthiness and a subtly sweet and nutty flavor — the ham is hand-rubbed, salted, and air dried for a perfect melt-in-your-mouth texture.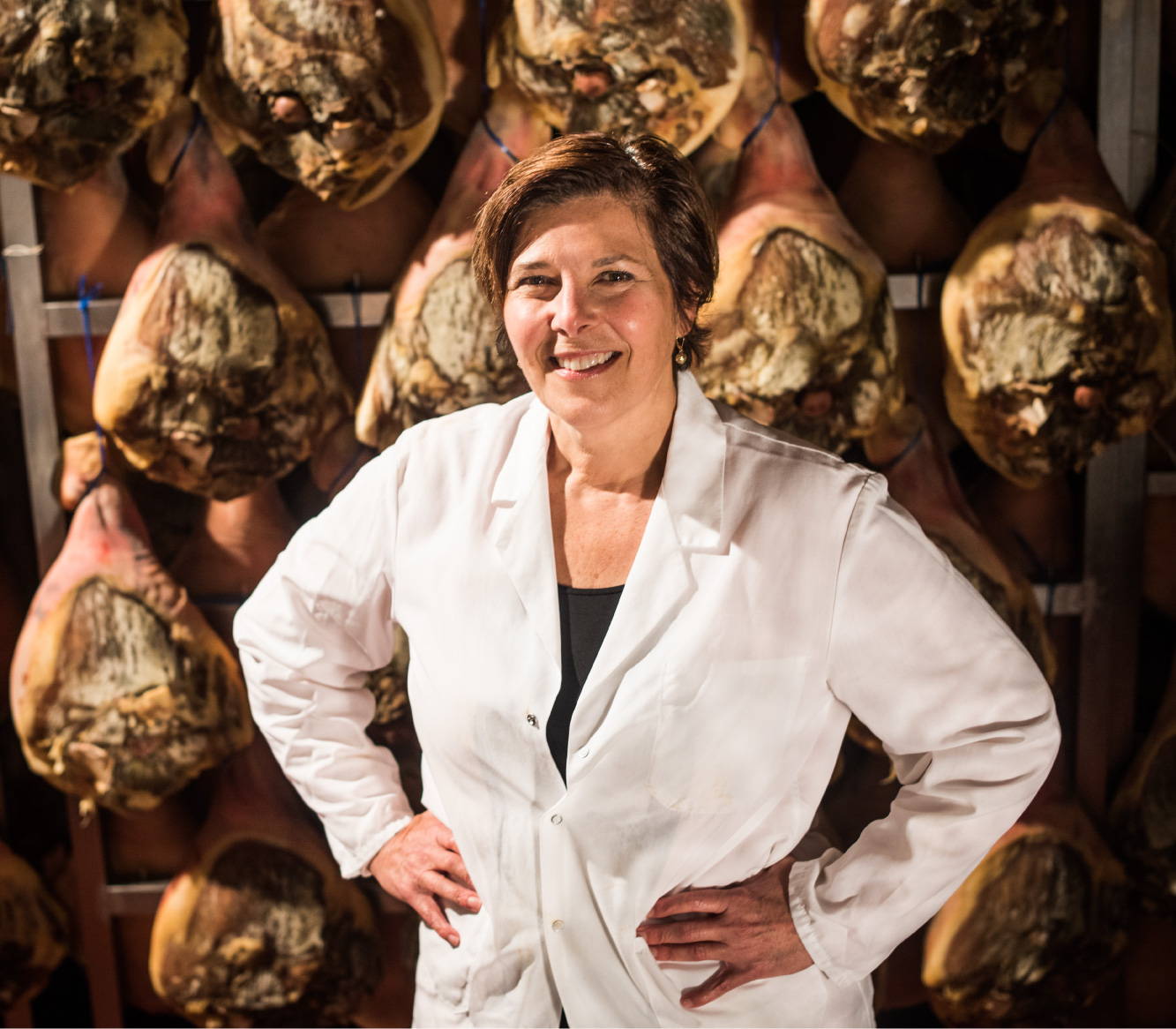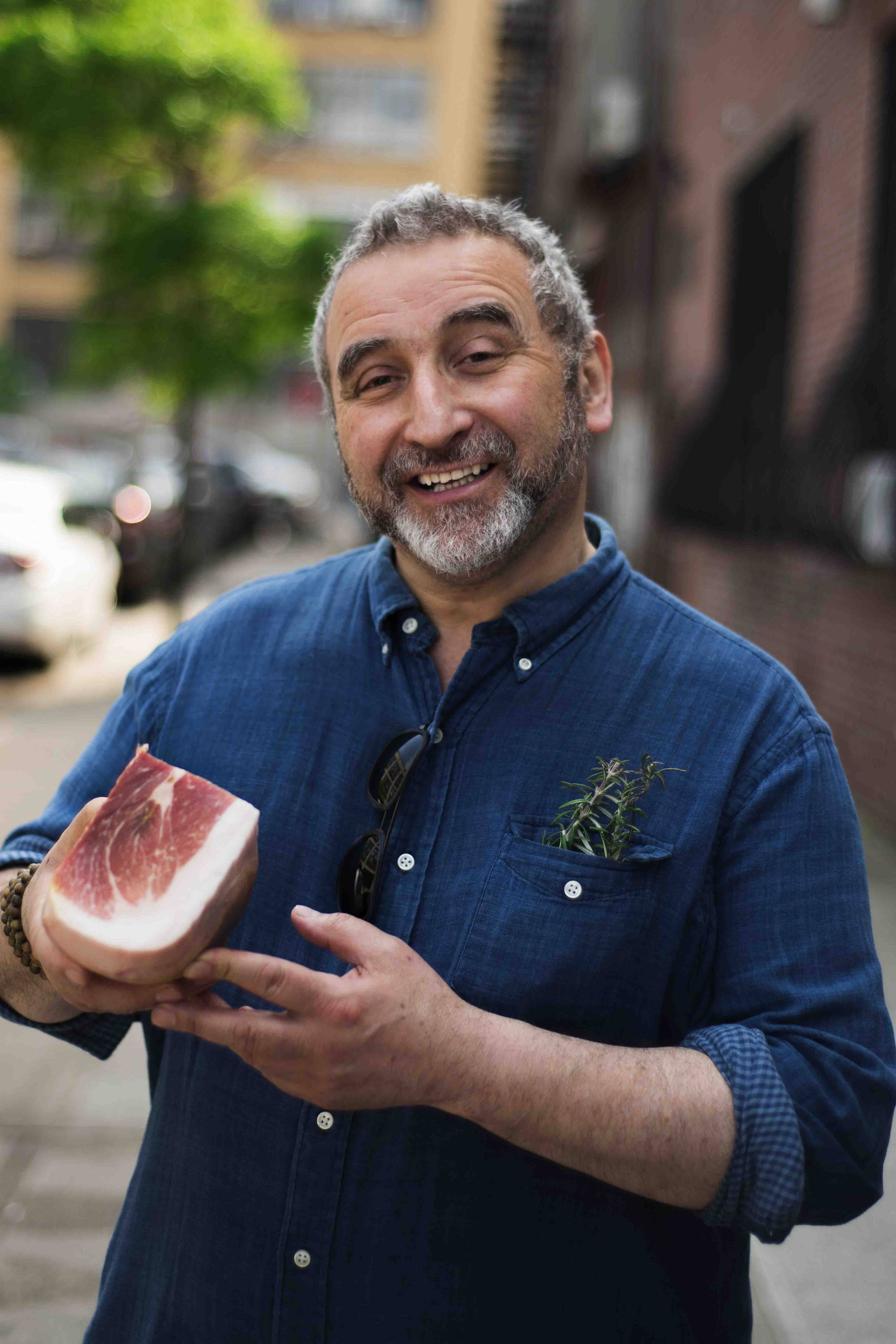 Casella's by Cesare Casella - Sullivan County, New York
Casella's was founded in 2016 in part to preserve endangered species of livestock from extinction, like the Tamworth, Gloucestershire Old Spot and Red Wattle pig. Cesare Casella learned about the plight of endangered foods through Slow Food, a non-profit organization started in 1986 in Italy, when the first McDonald's opened on the Spanish Steps of Rome. To counter the homogenizing effects of fast food, Slow Food was formed to bring attention to regional cuisines and ingredients.

Cesare is best known as the chef with the rosemary — he is rarely without a small bouquet springing from his pocket, a signature that reflects his dedication to his herb-inflected cuisine and fresh ingredients. When he was growing up, one of Chef Casella's jobs at his family restaurant was helping make the cured meats they were famous for along with the Norcini, roving butchers who traveled the Tuscan countryside to help families process their livestock before winter.

Chef Casella is the Dean of Italian Studies at the International Culinary Center and also the Chief of DNA, the Department of Nourishment Arts at the Center for Discovery, where he works to raise awareness about healthy eating for children and adults with developmental disabilities. He has also published multiple cookbooks.

Visit our Cured Meats Collection to try his award-winning prosciutto by itself or in our prosciutto sampler.

Paradise Locker Meats – Trimble, Missouri
Mario and Teresa Fantasma are the founders of Paradise Locker Meats. Mario worked in the commodity meat industry for decades before deciding that he wanted something better. So he went to the bank and got a loan to purchase an existing slaughterhouse in Paradise, Missouri, just outside Kansas City. The old plant, which had frequently been used as a local election headquarters, eventually burned down during a curing accident and the Fantasma family was at a crossroads. Would they open a new plant or call it quits and go back to working for the big guys? Thanks to prompting from their two sons, Lou and Nick, who both work there now, Mario and Teresa decided to invest in a new building a few miles away.

We first met the Fantasmas in 2005 and they immediately became USDA inspected allowing them to ship across state lines for Heritage Foods accounts. Today their operation has expanded from 6 employees to 46, they recently doubled in size, and they have a beautiful meat shop which supplies delicious local products to their community.
Visit our site for their famous Maple Sugar Cured Ham, delicious bacon which has become our Signature Bacon, and many other products like Fennel Sausage and the most perfect cured shanks — all using our heritage breeds raised on pasture as the primary ingredient.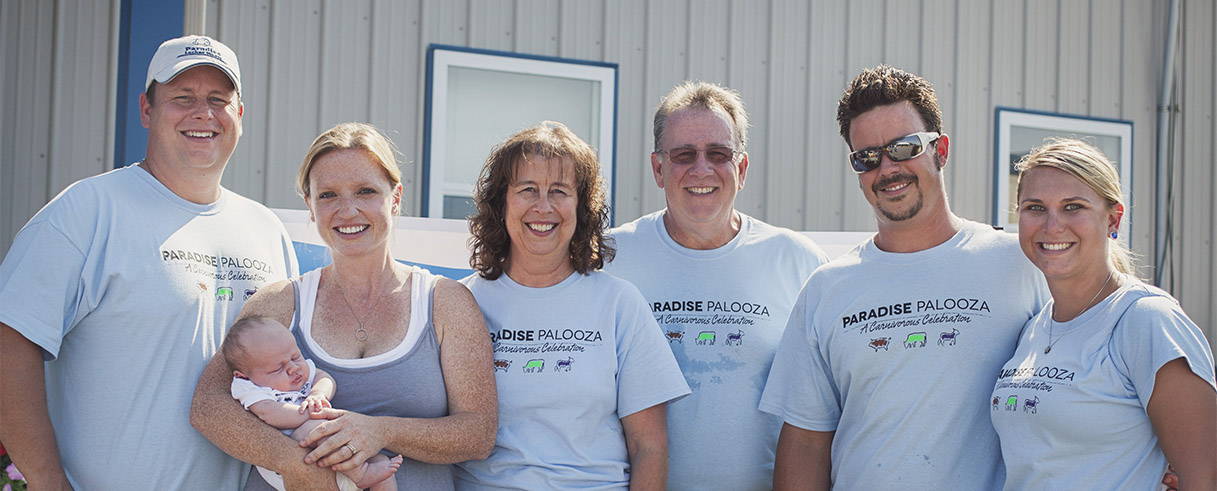 Colonel Bill Newsom's Aged Kentucky Country Ham - Princeton, Kentucky
Benton's Smoky Mountain Country Hams – Madisonville, Tennessee
Broadbent's Ham – Kuttawa, Kentucky
Heritage Foods is so honored to work with these three members of the Mt. Rushmore of cured meats in the United States.
Twenty years ago, the bulk of American charcuterie was cheap, commodity product. You could get a domestic prosciutto in a supermarket for half the price of Prosciutto di Parma.
More recently, charcuterie in the United States is following the same trend we have seen with wine, beer, cheese, and bread. The talent pool is expanding and quality ingredients are becoming more accessible.
Says Patrick Martins, founder of Heritage Foods: "Two decades ago, if you wanted to buy an imported beer, you paid a premium while American beer was cheap. Now the most expensive and sought-after beer is domestic, handcrafted beer, made in smaller quantities, using the best ingredients.
"The same thing has happened with charcuterie. We'll still love our Italian and Spanish hams, but they won't be nearly as prevalent. The market is changing right before our eyes."
"We are very proud to work with these great curemasters who produce amazing charcuterie and long aged hams using our heritage breed pasture-raised pork."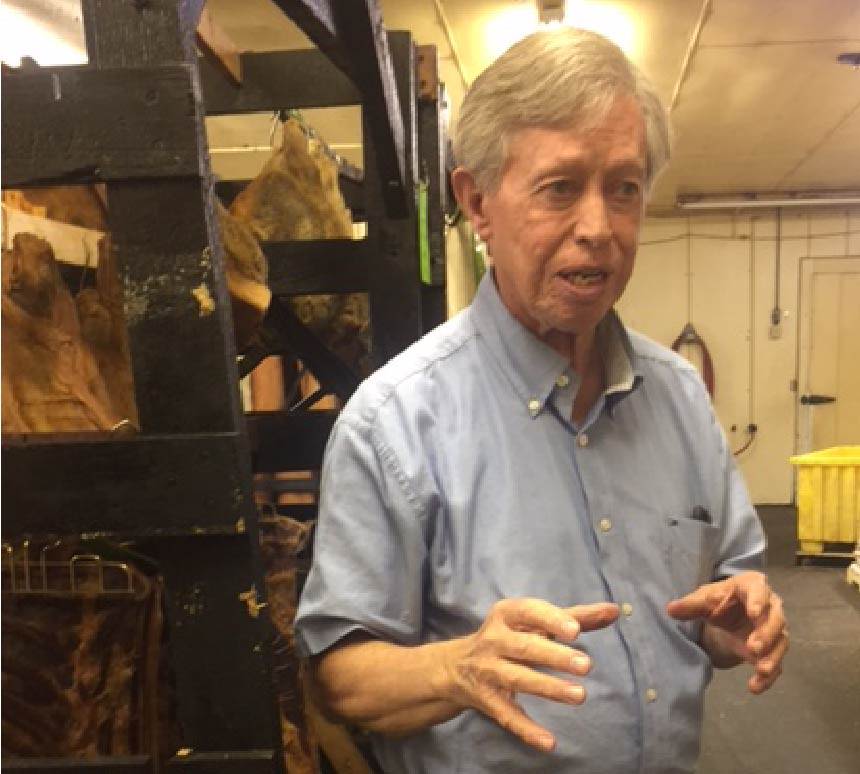 Al Benton speaks with an unerring southern twang that is like catnip to New Yawkers. And even though he teases at himself for being a hillbilly, he can't hide his business acumen or old-school good looks — his smile is half Robert Redford and half Jimmy Carter, equal parts star power and earnest American. Speaking to him about his business is a powerful lesson in pride, good taste, modesty, respect for history, and the providence of good timing — Al was lucky enough to catch the rising tide of foodies and enlightened chefs who recognized the soaring quality of their country hams just as cosmopolitan foodie culture was exploding.
Nancy Newsom's Old Mill Store in Kentucky was opened in 1917, and although it burned down and was rebuilt next door to the original locale, it doesn't feel like much has changed. The poplar floor creeks like an ancient symphony, even the door whistles like a bluegrass concerto when it swings shut. Outside on the sidewalk, there are a dozen varieties of tomato plants for sale, and pretty much everything you might want for your garden. Inside, are every manner of beans and corn, and jars of country condiments, from Hot Chow Chow to Appalachian Piccallili. In the back corner, past the buckets of penny candy, is where they slice the ham. Nancy runs two cure barns which are subject to ambient changes in temperature, making each batch a little different than the one before — but they all boast the signature twang that has made the Newsom ham famous from even before the days when James Beard first called Nancy's father, Col. Bill Newsom, to purchase the first of what would become his favorite ham made in America.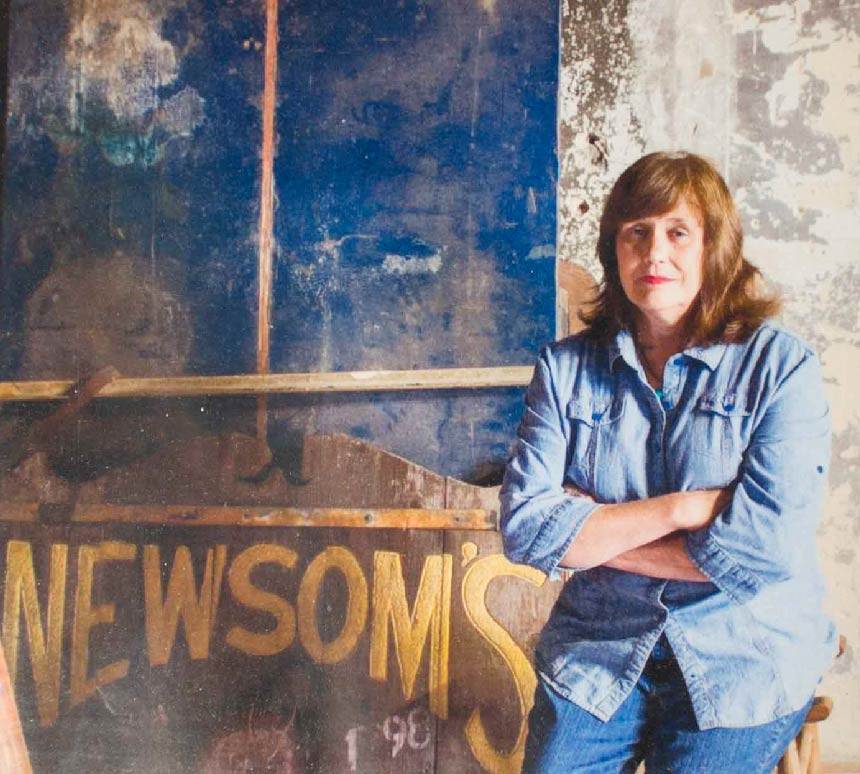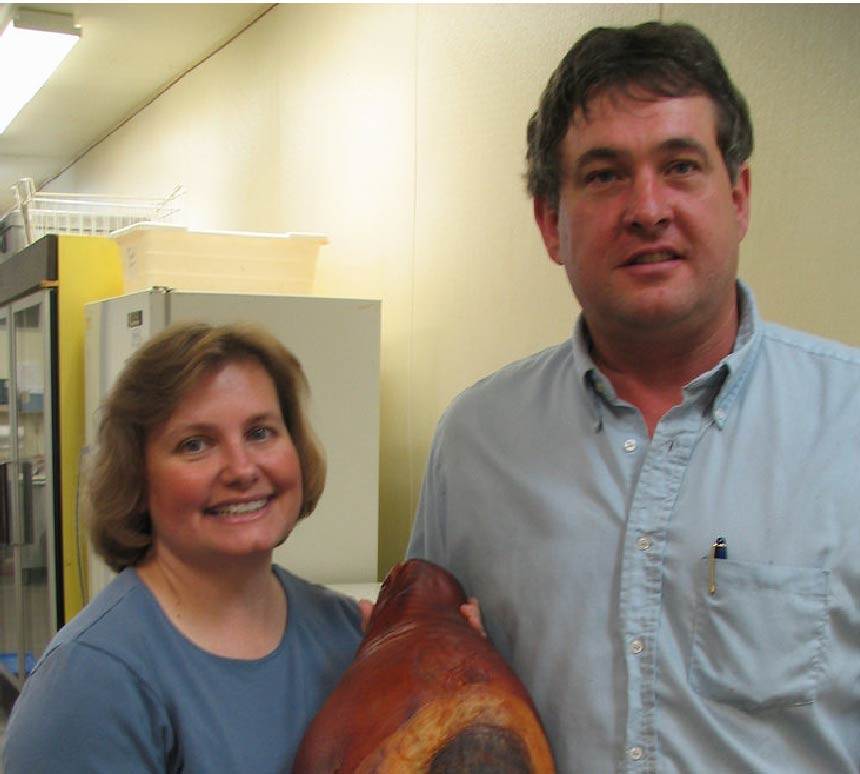 Broadbent Hams was founded in 1909. Under the direction of Ronny and Beth Drennan, in Kuttawa, Kentucky, they have won many championships from the National Country Ham Association. In 2018 a Broadbent Grand Champion Country Ham sold at a charity auction for $2.8 Million Dollars. Broadbent has been named Grand Champion Country Ham 19 times at the Kentucky State Fair - hams are judged based on aroma, shape, color, and ratio of lean-to-fat. They have recently added a new line of heritage breed, pasture-raised hams to their existing line of Southern Style hams. These long age creations represent a new American style of prosciutto — lighter, with a uniquely sweet and salty flavor. They also produce an array of delicious smoked bacon using our heritage bellies including Maplewood and Applewood flavor.

Elevation Charcuterie - Denver, Colorado
We first met Chad Nelan at The Good Food Awards in San Francisco and were amazed at the flavors of his full line of salami. Elevation Charcuterie Artisan Meats' North Denver production facility is making some of the best cured meats in the nation.

We are proud to partner with Elevation Charcuterie to create special salami using 100% heritage pork from our network of farms. We love all the salami they produce, and currently our site features a strong salami that bursts with flavors of Espelette peppers. There is no wrong way to enjoy this 100% heritage breed Basque Salami!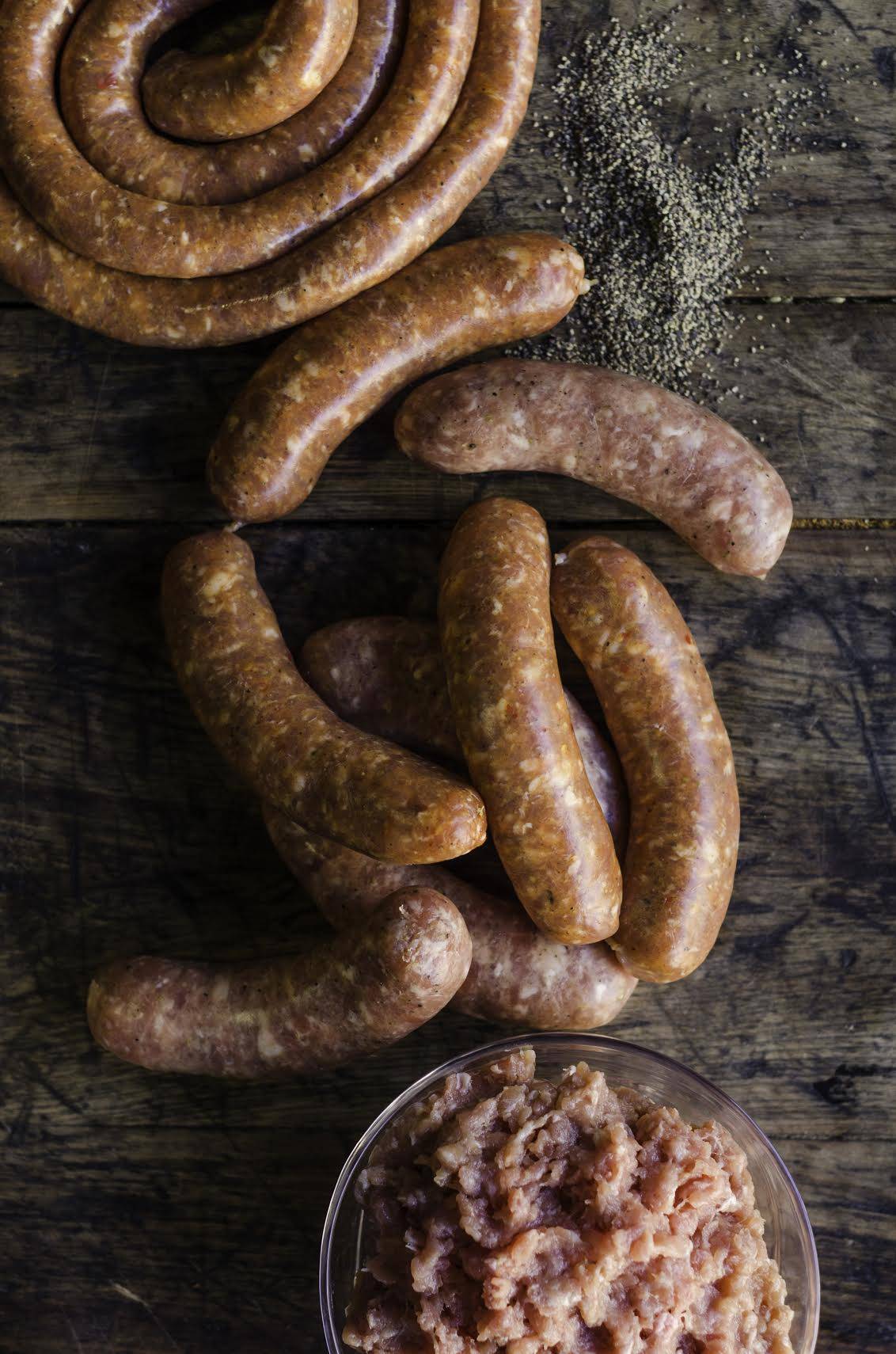 Parma Foods - New York City
This is third generation greatness from a no-nonsense artisan, Pepe Giocoli, who wears his white butcher's smock like a coat of armor. New York has its own regional cuisine, and Parma products are true classics, the genuine taste of New York City. Lightly seasoned his sausages have an outstanding flavor and an incredibly snappy texture.

Back in 1950 the patriarch known in the Industry as Jimmy (Vincenzo Giocoli) founded Parma Sausage Co. His desire to deliver a high quality product at an affordable price was at the forefront of his mission. Born in Italy he migrated to America to seek the American dream, using his hands to make sausage the old-fashioned way was what he knew. Starting on foot and store by store, his passion and perseverance delivered a 60-year-old company that people have come to love and trust for delivering consistency and quality.

We met his son Pepe, who now runs the company, through the Meatball Shops, a family of restaurants in New York City, for whom Pepe makes meatballs using our heritage breed pork. As our relationship grew, we discussed the prospect of Pepe adjusting his loved family recipes to include our heritage pork. Now we are proud to feature a rotating group of sausages including Sweet Italian, Pepper and Onion, and Lean Breakfast Sausage – true tastes of Italy using the country's most pristine ingredients.

We are proud to feature pantry items from some of the country's best artisans. We also include delicious consciously crafted products for free in all orders for all customers after they place their 5th order with us! These "Elite Status" gifts range from chocolates to pasta to granola from some of the country's best producers. We also feature these items year round:

Wild Rice

The meaning of Anishnaabeg is "First-" or "Original-Peoples". Another definition refers to "the good humans", or good people, meaning those who are on the right road/path given to them by the Creator (Great Spirit). Our friend and a Heritage Foods Advisory Board member Winona La Duke introduced us to the delicious products of the Northern Minnesota Lake regions. This is one of the few rice varieties that is truly wild – the rice looks more like a grass than a grain of rice. Winona is working to protect the wild label for producers that truly raise the grain on open lakes.

Salt

We are proud to offer this new seasoning salt from Angelo Garro. This is the only savory seasoning your meat will ever need. If you don't believe us, see what Alice Waters, Michael Pollan, and Werner Herzog are saying about this seasoning. In the words of Angelo himself, "I created a salt mix that for years I have used for cooking meat, fish, and vegetables. Many of my friends are chefs, restaurateurs, and artists, and for years I have been giving my salt to them. They loved it and urged me to share it with the community and with food lovers everywhere. So here it is, my Omnivore Salt. You can use it everyday, on whatever you love to cook."

Olive Oil

Olive Oil Jones' Steve Jenkins imports barrels of geographically specific olive oils that are fresh, unfiltered, and teeming with fragrance and flavor. Olive Oil Jones' early-harvest oils are derived from olives that were green, and gently harvested then mulched and centrifuged within hours of their harvest. The result is an immensely flavorful oil, that elevates any dish it's served with.
Maple Syrup

Maple syrup is only made in certain snowy forests when spring breaks. Our syrup comes from 100-year-old trees in the Northeast Kingdom of Vermont — it is the sweetest stuff nature produces. The Cantor family boils and bottles all of their syrup right on their farm. They tap their trees and the maple sap flows down to the Sugarhouse where it is boiled gently over a wood fire, just as it has been for generations. Use for pancakes, waffles, desserts, glazing hams, or just drinking by the spoonful!

Anchovies

Our anchovies are about to be back by popular acclaim – these Slow Food endorsed anchovies are hand crafted by our very own Serena Di Liberto's father and brother, Saro and Gianluca, who have been in the business for over 30 years in Bra, Italy. Each one of these beautiful glass jars is painstakingly hand-packed with plump anchovies cured in the highest quality Extra Virgin Olive Oil to preserve the fresh flavors of the fish. Terrific right out of the jar, they are sensational over buttered bread. Anchovies have been traditionally used to add depth of flavor to food since Roman times. Almost everything can be improved with the addition of an anchovy whether in a salad (the Caesar in particular), on a pizza, in pasta, or in any fish dish. Anchovies infuse a radical undertone to dips or spreads such as a tapenade, bagna cauda, or caponata. These little fish will totally and absolutely redefine your perception of anchovies. Our anchovies are fished from the waters of Sicily while the olive oil is from Umbria.