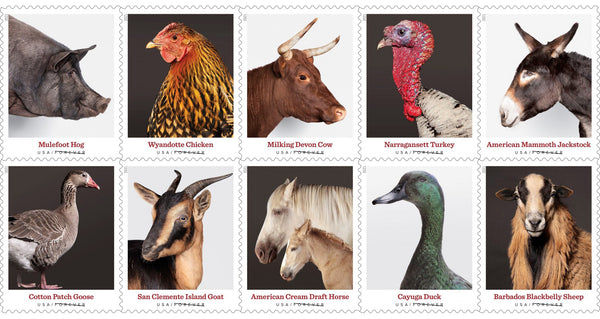 USPS Releases Heritage Breed Stamps
Happy International Heritage Breeds Week! To celebrate, the US Postal Service released stamps commemorating these historic animals. "These stamps pay tribute to heritage breeds, pre-industrial farm animals that are enjoying renewed attention for their versatility, adaptability, and unique genetic traits. Heritage breeds of livestock take us back to our agricultural roots — and show us the way to a more sustainable future."⠀⠀

Heritage Foods owes its life completely and 100% to the chefs — both at home and professionals — butchers, and curemasters who purchased heritage breeds in their local communities or with us starting in 2004. Their purchases incentivized farmers to keep their older breeds, most of which are on endangered species lists, and grow their numbers. It's a sad fact that a few corporations control most of the hatcheries and seed banks that populate almost every farm in the world with the same few breeds of fast growing livestock and poultry. An alternative was needed and chefs made it happen, one pound at a time! To honor that commitment and investment, the US Postal Service has issued a Heritage Collection of stamps! So thank you chefs for pioneering an important cause to preserve biodiversity and flavor in our meat supply. And thank you to USPS — we love you and respect the work that you do!
The stamps were designed by Zach Bryant with photographs by Aliza Eliazarov and art direction by Greg Breeding.