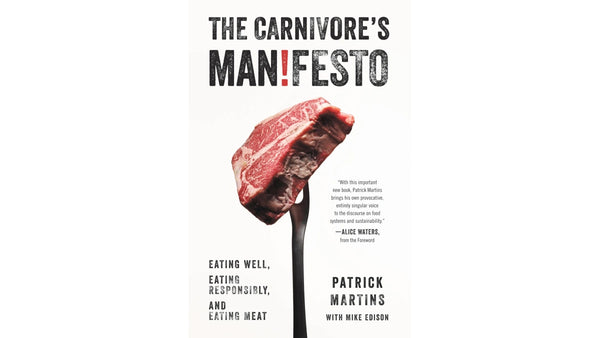 The Carnivore's Manifesto Magical Meat Tour Update & Gallery!
We are on the road promoting Patrick Martins' new book The Carnivore's Manifesto!
We kicked off the tour Thursday in San Francisco at Americano Bar and Restaurant for a book signing on the patio with executive chef Josh Perez. On Friday, we made our way to Fatted Calf Charcuterie to visit Taylor and Toponia and the rest of their crew. They then  joined us for a dinner hosted at 18 Reasons. Sam, the owner of Bi-Rite Market, and Chili, who is their head meat purchaser, prepared an amazing meal of braised heritage pork shoulder with salsa verde and fresh panzanella salad. Michelle is in charge of organizing all the events and dinners at 18 Reasons and lead a discussion with Patrick, Mike Edison, Sam, Chili, Taylor, and Erin Fairbanks, about Patrick's book and why sustainable and humane meat is important to each of them.
Saturday was our busiest day so far. Patrick stopped by Ferry Plaza Book Passage for a quick reading, and Mike Edison serenaded the crowd with a meat-centric set list and a rousing performance on his theremin.
After Book Passage, the Carnivore's crew was hosted for dinner, drinks, and a music performance by the New Meat City Ramblers at Angelo Garro's Renaissance Forge. Angelo is a Bay Area artist, wine maker, and expert maker of charcuterie. He is also the man responsible for creating the famed Omnivore Salt. We were joined by our closest friends and family for a truly special evening of good food, good wine (thanks to Mercy Wines), and great company.  Renato Sardo and Dario Barbone, owners of Baia Pasta, and old friends of Patrick's from Slow Food days brought out plate after plate of fresh pasta as we watched Italy in their first World Cup match.
Sunday was spent in Napa at Long Meadow Ranch & Farmstead Restaurant. Chef Stephen Barber got to hang out with us all day. Farm to Table Manager, Kipp Ramsey was their with his lovely wife, Erin, and their new baby boy to help us celebrate the book and Father's Day. We listened to live music; ate delicious heritage ribs and pulled pork; and carved into one of  S. Wallace Edwards & Sons' Surry-ano Ham that owner, Sam Edwards III, sent to Farmstead in celebration of Patricks' Book publication. We finished our day at Cain Vineyard & Winery, where Chris Howell gave us an impromptu tour of the vines and his wife, Katie, prepared a dinner that we shared on their patio overlooking the Napa Valley sunset.
We spent Monday meandering up the coast of California making our way north along 101 towards Eugene, Oregon. We enjoyed the beautiful views of the California and Oregon coastline and stopped to tour the Red Woods along the way. Today should be a wonderful day. We are staying with Father Daniel and his wife Maria and their daughter Lucy.
Father Daniel is a community leader and priest at St. John the Wonderworker Serbian Orthodox Church in Eugene. He is an old friend of Patrick's from graduate school. We have plans to tour the city, visit the new brewery, and attend a book signing this evening. After today, the tour continues north to Portland!
Stay tuned for more updates and photos to come!