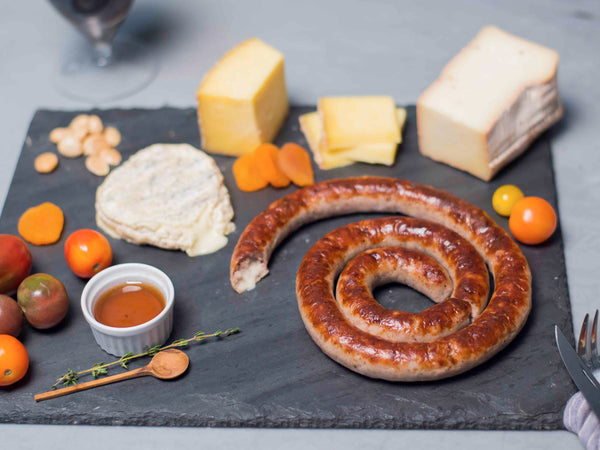 Sweet Italian Sausage with Cheese!
The Signature Sausage Style from Little Italy's San Gennaro Fair with Cheddar and Gruyere Shred from Vermont's Most Decorated Creamery!


The most delicious sausage we've ever tasted! We created something we wanted to eat ourselves, that joins two of our favorite foods: Sweet Italian sausage from NYC's Pepe Giocoli and two of Jasper Hill Farm's best melting cheeses! 


Little Italy's legendary Pepe Giocoli creates a New York classic, using our 100% Heritage breed pork and artisanal cheddar and gruyere shred from Vermont's most decorated creamery! This is one of the best sausages we've ever tasted! 
Located in Greensboro, VT, Jasper Hill Farm is a one-of-a-kind working dairy farm with an on-site creamery and underground cheese cellar. Started by brothers Andy and Mateo Kehler in 2003, Jasper Hill is well known for its award winning cheeses found in shops and restaurants across the country. Our Sweet Italian Sausage with Cheese contains a blend of two of their best melting cheeses, Alpha Tolman, a gruyere style cheese, and Cabot Clothbound Cheddar. In each bite you will find the bold, creamy and savory cheese flavors of these Jasper Hill Farm gems.
Custom made by a New York City sausage legend, our Sweet Italian is inspired by both the best of Southern Italy and old-school New York style sausages. Parma Sausage Co. has been producing the very best sausages from an original family recipe since the 1950's now featuring our Heritage breed, pasture raised, and antibiotic-free Berkshire pork.