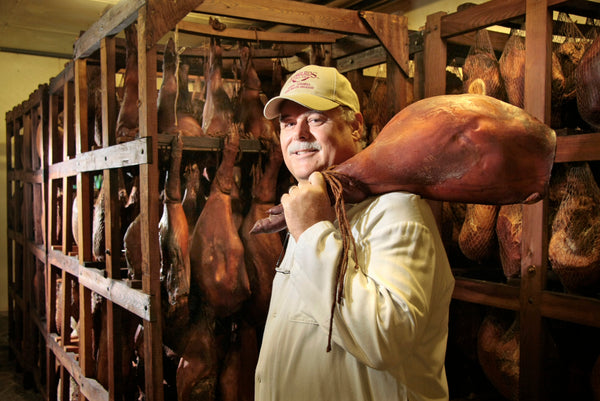 Surryano Ham Slicing & Storing Tips
Don't have a machine slicer at home? Not to worry, hand slicing is a can be a difficult skill to master but in reinforces the ancient roots of cured meat. It creates a unique experience compared to the machine generated paper thin slices and allows you to appreciate three-generations of curemaster knowledge that produce the perfect Surryano.
Your Surryano comes de-boned and with the skin removed so it is ready to be sliced and served as soon as you are. With the ham well chilled from the refrigerator, simply removed the ham from the vacuum packaging and place on a firm cutting surface. Don't even think about trimming the fat, that is were 18 months of flavor get locked in. With the open cutting face perpendicular to the cutting surface use a very sharp slicing sharp knife (most will have ridges on the blade but not a serrated knife) with a slight back and forth motion to create thin slices. Once sliced paper-thin allow the ham to come to room temperature before serving. Surryano is the perfect complement to melon slices, olives, Spanish-style tapas… and great on bread with olive oil and cheeses such as provolone and mozzarella.
If you aren't going to use your entire Surryano at once we recommend covering it in plastic wrap to avoid prolonged exposure to air, drying out the ham. To further protect the ham, you may cover it with a clean dish towel.