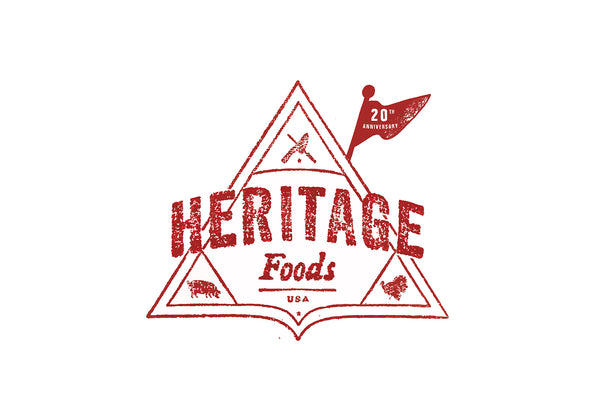 Party Tips For Easy Entertaining
Every heritage foods meal is a special one, whether it's for a big dinner party, a romantic dinner for two or just brunch with the kids.  When we eat, especially when we eat meat, it's important that we understand that we are undergoing an agricultural act, and also a moral one. Knowing where our food comes from is the first step to ensure that we are being good, clean and fair, but so is honoring mealtime. Here are some fun tips from the team here that come from years of throwing parties and events – we hope something in this entry is useful!
There is no better way to maintain your place on top of the food chain than by having an intimate relationship with your butcher — or, for that matter, your produce guy, your bread baker, your cheesemonger, maybe a spice gal, and a local pastry prodigy. In fact, can you name five local food shops with which you do business? If you can't, then you aren't taking full advantage of sustainable food movement. These relationships are intimate and nurturing.
Where you eat – preferably a place with no TV's, computers or distractions– is very important. Walking into your eating area should be like crossing a threshold into a magical place of tastiness and pleasure.
Create a playlist of background music. Don't worry about fiddling with the radio while guests are over.
Buy flowers. Sometimes a bouquet isn't quite right for the table, but flowers in the kitchen or living room can improve your mood and will add a nice touch to any space.
Seat everyone at one table – even the children. A connected community table will support conversation and help the party to navigate away from awkward seating arrangements. We like to assign seating so that that great conversation is given its best chance to thrive!
Make yourself a script. Knowing when and how the theater of your event will proceed allows the host to spend more time at the table, which is a sign of good hosting! Hosts who spend all their time in the kitchen end up making people at the table long for their company! Try to have as much cooking as possible finished ahead of time.
There is more to setting a table than placing the fork on the left and knife on the right. Make it your own. Set the tone by using objects and colors that make you happy. Add small touches. Instead of a flower centerpiece, place flowers about the table or substitute with a few sprigs of woody herbs. You can even add your favorite knickknacks to the table setting.
Serve drinks in a pitcher. Name your favorite drink – you know you want it in a pitcher! Give some thought to the drinks. Sparkling turns water into a champagne. When making cocktails add the liquor in first, then add the mixer so that it actually mixes!
Keep place settings/servings simple. Family-style dining is the most fun and creates a shared experience of serving one another. Rather then serve 5 steaks for example, we think it's more fun to cut all the steaks into medallions and then serve them on a platter – people can choose their pieces and the temperature of their meat.
Have plated dished out on the table when guests arrive. Meat and cheese or pickle plates can be a simple way to start the party. It's also a great way to ensure that everyone has food and drink in hand within minutes of arriving. A well-executed meal will be appreciated by all more than an elaborate meal.
Don't forget the kids – eager participants too often marginalized at adult parties. Create inter-generational community by sharing chores with them – it can be as simple as asking them to bring out plates or to help with table setting. And they should be at the table with the rest of the party when the food is served.
Give yourself a breather. A half hour before guests arrive should be a time for you to relax. Open a couple bottles of wine and pour yourself a glass.
Cheers!
Laura del Campo