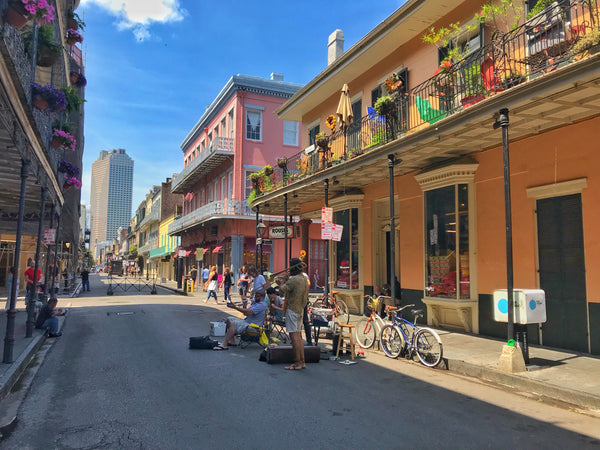 New Orleans
We adore New Orleans.
There are few American experiences more unique than strolling through the neighborhoods of Bywater, Marigny, and the French Quarter on this gem of the Gulf Coast. The vibrant, 19th-century, two-story homes with grand terraces, quaint patios, and porches offer a distinct sense of place and an escape.
Part of the joy is strolling through these residential neighborhoods, and all of a sudden a fabulous tiny family business appears: a coffee house, a grocery store, an art gallery, and, of course, restaurants and cafes. There is a good chance an impromptu concert filled with percussion and brass will have drawn an audience, the infectious beats setting off an itch to dance. 
Everything about the experience is slow — in the best sense of the word — from slow food, to leisurely business, to unhurried city life. It is a rare moment of being present in the moment.
At Heritage, we pay respect to New Orleans by going full-throttle Red Wattle,  championing the pig breed that arrived on American shores in the 1800s through the Gulf by way of New Caledonia, and has long been a part of the Creole and Cajun cuisines that are widely represented in the flavors of this world-famous food city.
The Red Wattle has also come to represent the foundation of our business. We first started raising the Red Wattle 20 years ago with the help of Larry Sorrel, who drove thousands of miles to pick up all the breeding boars and sows he could find. At the time, we called the taste "racy" and "charmingly inconsistent," as if the breed were bred to nimbly accommodate the various influences which inspire.
What does going full throttle Red Wattle mean at Heritage? We sent a fresh batch of all Red Wattle pork shoulder to The Mayor, a small-batch sausage maker in Richmond, Virginia, who adapted their andouille sausage recipe for us. Try these quintessential Louisiana links between a bun or in this new recipe for shrimp jambalaya.  
Also, our video series continues with a 100% Red Wattle Muffaletta Sandwich. including bread made fresh by Winner Bread, everyone's favorite Brooklyn baker, the famous Olive Salad from New Orleans' Central Grocery and Deli, and Red Wattle salami with black pepper and Spanish Pimenton from our friends at Fatted Calf.
Pair it with the Sazerac, a cocktail invented in New Orleans.