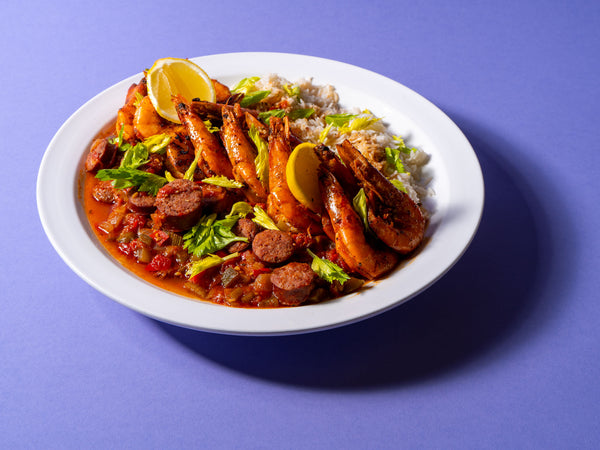 Jambalaya with Andouille and Prawns with Cajun Vermouth Butter
While every culture has a stew, the Jambalaya originated in Southern Louisiana in the 18th century, with origins before that in Africa and Spain. Jambalaya is rice cooked usually with ham, sausage, chicken, shrimp, or oysters and seasoned with herbs. From that definition comes a myriad of different variations including the Cajun tradition and the Creole tradition, among others.
The dish boasts a particular blend of herbs and vegetables — think the holy trinity of bell peppers, onion, and celery, which is a version of the classic mirepoix, but with bell peppers in place of carrots. More often than not, Jambalaya features andouille sausage, a variety many people try to make but only few make well (hint: heritage breeds raised on pasture helps!).
Our in-house Chef Nick Quesada is a fan of all cuisines, but in particular the traditions of New Orleans, which informs much of his cooking.
Ingredients:
1 12 oz pack The Mayor Andouille, cut into ¼" rounds

2 tbsp Kosher salt

1 tbsp black pepper

1 tbsp white pepper

3 tbsp smoked paprika

1 tbsp cayenne pepper

2 tbsp garlic powder

1 tbsp onion powder

1 tbsp dried oregano

½ tbsp dried thyme

1 pound head on shrimp or prawns (U12-14 size), deveined

5 tbsp olive oil, divided

1 red bell pepper, diced

½ green bell pepper, diced

1 medium onion, diced

4 celery stalks, diced

4 cloves of garlic, minced

1 28 oz can of whole peeled tomatoes, crushed by hand

1 qt chicken stock

¼ cup dry vermouth 

1-2 tbsp cold unsalted butter

2 cups white rice, cooked 

¼ cups picked pale green celery leaves

½ lemon, juiced

1 lemon, cut into 4 wedges
Preparation:
Remove sausage from packaging and sliced into ¼" rounds.
In a small bowl, mix kosher salt, spices, and dried herbs and set aside for a cajun spice blend. (This makes more than needed for the recipe. Keep the remainder in an airtight container in your pantry for up to 1 year for future use).
Clean and devein prawns by using kitchen scissors to cut down the back of the shell behind the head and remove the vein. Pat dry and toss in a bowl with about 1-2 tbsp of cajun spice blend and set side.
Heat a large dutch oven over medium high heat, add 2 tablespoons of the oil, then brown the andouille on all sides (1-2 minutes a side), remove and set aside on a plate lined with paper towels.
In the same dutch oven and cooking oil (the andouille should have released some seasoning turning the cooking oil red), over medium heat, add bell peppers, onions, celery, and garlic with a few pinches of cajun spice blend. Cook, stirring occasionally, until onions are translucent, 8-10 minutes.
Add tomatoes and chicken stock, bring to a boil then reduce to a simmer and cook for 30 minutes or until reduced by half or so. Taste and adjust seasoning with salt or more cajun seasoning if desired.
Return Andouille to the simmering pot and continue to simmer while you cook the prawns.
In a large saute pan, heat 2 tbsp oil over medium-high heat. Sear shrimp on one side until browned and beginning to char (about 2 minutes). Flip the shrimp over, add dry vermouth, cover with a lid and steam for an additional 3-4 minutes or until shrimp begins to cook through. Remove prawns from the pan.
Reduce heat to low and continue to cook until the vermouth is reduced by half. Whisk in butter until emulsified - you can add a few drops of stock or water if the emulsion breaks while whisking.
On a large platter plate rice, jambalaya, and prawns, then pour Cajun Vermouth butter sauce over.
Toss pale green celery leaves (from center of bunch, not dark green) with the lemon juice and 1 tbsp extra virgin olive oil and season to taste with salt and pepper. Garnish the plate with the celery leaves along with lemon wedges.