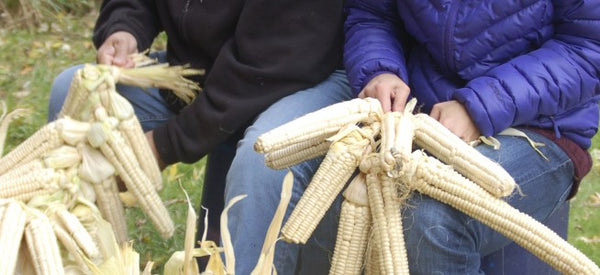 Iroquois White Corn
Brooklyn, NY (November 1, 2013) – Heritage Foods USA is proud to be the sole national distributor of Iroquois White Corn, an heirloom corn variety that has been a traditional staple of the Haudenosaunee (Iroquois) diet for 2,000 years. Heritage Foods USA is working with the Iroquois White Corn Project in the Finger Lake Region to revive Iroquois White Corn as part of a traditional Native American diet and provide a sustainable market for Haudenosaunee farmers.
All Iroquois White Corn Products originate from corn seeds that descended from seeds planted in the 1600s. The seed has been carefully managed and protected by Haudenosaunee farmers for 2,000 years to keep the genetics pure. Iroquois White Corn has not been genetically modified. The Iroquois White Corn is hand harvested, dried, and roasted. Each bag is ground to order to retain its natural freshness.
Iroquois White Corn is available through Heritage Foods USA in three varieties – hulled white corn, roasted corn flour and white corn flour. The whole kernel hulled and roasted corn flour are aromatic with a slightly nutty flavor, adding a depth of flavor to your tortillas, corn bread, posole, vegetable soup, muffins or cookies. The fresh white corn flour has an earthy taste, providing a mild alternative for baking. All of the Iroquois White Corn products deliver a whole grain, gluten free alternative to traditional flour.
The Iroquois White Corn Project is located at the Ganondagan State Historic Site, the location of a major 17th-century New York State Seneca town and granary. Purchase of this Iroquois White Corn product will support the Friends of Ganondagan, who in turn support Ganondagan State Historic Site.The not-for-profit educational organization educates visitors about the cultural, nutritional, and spiritual importance of white corn to the Haudenosaunee people. Hundreds of years ago, this town was a vibrant center for the Seneca nation and the Iroquois White Corn Project allows for white corn to grow again in those same fields. Experience this Native American traditional food today and support the New York State Iroquois nation.
For more information about Heritage Foods USA and the
Iroquois White Corn Project
, visit www.HeritageFoodsUSA.com.
The post Iroquois White Corn appeared first on HERITAGE FOODS USA.