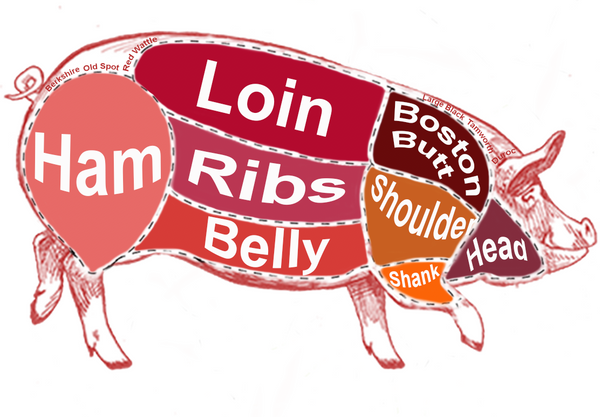 Hooray for Year of the Pig!
Here at Heritage Foods every year is Year of the Pig! Fifty-two weeks a year we are working with 25 independent farms who raise 6 different heritage breeds of pork, each one healthier and more delicious than the last! We cut and sell every part of the pig, nose-to-tail, to over 250 restaurants and THOUSANDS of home chefs who are in love with the best meat money can buy!
But this year is truly special because 2019 is Year of the Pig on the Chinese Lunar calendar, and we could not be happier or more proud to be part of the celebration! 
Since we don't sell Dragons, the Pig is our very favorite Chinese horoscope symbol — pigs are said to be lazy but have big personalities and are blessed with good luck and fortune — and since Year of the Pig only comes around every 12 years, we are very excited and ready to feast on pork belly, shoulder, ribs, chops, ground pork, and more!
Chinese New Year begins on February 5 this year — since it is based on a lunar calendar the date changes every year — and is also known as the Spring Festival. Although it is still winter, the thaw and rebirth are coming soon, and with it good luck and prosperity, and of course, plenty of pork!
We hope you'll join us in celebrating the YEAR OF THE PIG, a truly global festival, and for Heritage Foods, one that we celebrate every day of the week. To you we say, "gong hei fat choy!" which means "congratulations of fortune!" and indeed, we feel so very lucky to be working with the best farmers — and the best customers — in the world. Happy New Year, Happy Year of the Pig!