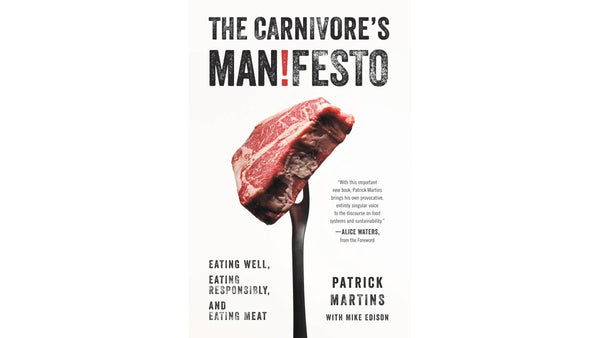 Heritage Foods founder Patrick Martins Wrote a Book! The Carnivore's Manifesto
I've always known that a book was needed to accumulate all the funny things I've experienced over the years working with great people and tasting great foods. I met my co-author Mike Edison while doing a show on the Heritage Radio Network, and I knew I had found a perfect communicator for these ideas.
The book is divided into 50 chapters, each one an observation about the national food situation, especially as regards to meat. One of the central tenants across all the essays is that our lives are better when we make the right choices through a heightened awareness of the world around us — of farmers and truck drivers and burger flippers and bar-tenders and of the food on the supermarket shelves; of our relationship to technology and nature, and especially, ultimately, to what's at the end of our forks.
Our goal is to break the trend of fewer companies producing the majority of what America eats; to have more people and more farms producing more of our food; and to move away from shamelessly irresponsible commodity products to a healthy, high-quality alternative, no matter where you live, no matter what you do. Eating better meat will be more expensive. But perhaps as quality replaces cheap commodity, some people will end up eating less meat — which is not such a bad thing.
We are fighting for healthy diets and better lives, not for rampant, Paleolithic pig roasts every night of the week. And while we think meat is an important component of a healthy human diet, we aren't just carnivore, we're omnivore, and if that includes eating a pizza slice with strange pepperoni on it once in a while, at least we know exactly what we are putting in our mouths.
Contents

Foreword by Alice Waters xi

Introduction: The Revolution Starts Now 3

1. A Is for Apprentice 21

2. The $140 Turkey 27

3. Fuck Local, Eat the Best 30

4. Learn to Build a Fire 33

5. Survival of the Fattest 36

6. Commodity vs. Quality 39

7. Slow Food Is Fast Food 43

8. Merchants Matter 47

9. Bessie and Babe, Fluffy and Fido 53

10. Night of the Hunter 58

11. Têtoir: Feed Your Head 61

12. Twelve Great American Têtoirs 65

13. Give the People What They Want 78

14. Hello, I Am a Pig 81

15. Take My Ham, Please 85

16. You Can't Avoid Processed Food 89

17. Eat an Endangered Species 92

18. Slow Business, Part I: Meet Me in the Middle 97

19. Don't Make Ketchup 101

20. Nose to Tail: Let's Grind 103

21. Not‑So‑Candid Camera 108

22. Sleep with Your Butcher. And Maybe Your Bartender. 110

23. And the Truck Driver Shall Inherit the Earth 114

24. Carlo Petrini 119

25. Sex Sells, or, For Every Season There Is a Meat 125

26. Let It Rot 131

27. Build a Slaughterhouse 135

28. Slow Down 138

29. Vegetarian, You Have Blood on Your Hands! 141

30. Take Back Lunch 145

31. Remember The Whole Earth Catalog! 148

32. Consider the Turkey 153

33. We Answer to a Higher Authority 160

34. I Am a Goat 163

35. Share the Shit 166

36. Healthy Animals Don't Need Medicine 169

37. National Farmers' Day 171

38. Put Your Money Where Your Mouth Is 175

39. Revolutionaries Wanted, Inquire Within 178

40. Ted Turner 181

41. Alphabet Soup 186

42. Don't Be a Hipster Hater 190

43. I Am a Cow 193

44. Slow Business, Part II: How to Make Bread 196

45. It's the Meat . . . 200

46. Splendor in the Tallgrass 203

47. Letter to a Farmer 207

48. Don't Forget to Feast 212

49. A Fairy Tale 218

50. In the Year 2222 . . . 229

Essential Reading 235

Acknowledgments 239

Index 245