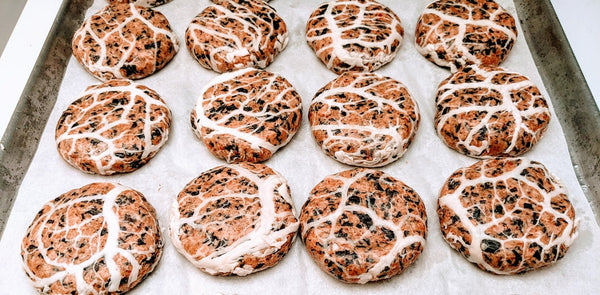 Heed the Caul by Fatted Calf
The Fatted Calf was one of Heritage Foods' first customers on the West Coast — we met them back in 2004 when Patrick Martins was traveling, and they talked about responsible, traditional, humane farming, and reaching out to the like-minded. 
Each week the Fatted Calf brings in thousands of pounds of heritage pork for their two butcher shops and retail line of delicious Fatted Calf bacon! Their two beautiful shops are located in Napa at Oxbow Market and in San Francisco on Fell Street. Their meat case is a testament to diversity both in the fields and in the curehouse.
Fatted Calf sends out one of our favorite newsletters, full of education and appetizing updates! They recently shed some light on caul fat, which you can buy from us here. Read on to learn more about caul fat!
What is that weird webby white stuff? Clinging to the outside of a pâté, draped like lace over little game birds at a Parisian market, wound around little balls of enticing sausage? It's intriguing, it's mysterious, it's caul fat.
Caul fat is the fatty membrane that surrounds the intestines of pigs, sheep and cows. Like a perfect hybrid between a sausage casings and lard, caul fat can be used both to encase a forcemeat and to bard a roast, small bird or other game. It has the amazing ability to stick to itself eliminating the need for trussing. Cook a caul wrapped roast or sausage and the caul mostly melts away, keeping the contents juicy, leaving only traces of its delicious golden brown fat.
At the Fatted Calf kitchen pork caul serves our purposes best. Hundreds of little squares are cut each week to wrap our crepinettes and large swaths are used to line our terrines. We love its flexibility, its versatility and the fact that it is easily harvested from the same great well raised heritage pigs we use to make our salami, bacon, chops and roasts.
Just a quick soak in cold water makes caul fat pliable. If you want to take a foray into the wild world of sausage making but don't want to make a long term investment in a stuffer, using caul fat is a great way to begin. Perhaps you've overstuffed your roast and are fresh out of twine. Better reach for your caul fat. What! You don't have any caul fat in the house? Time to take a trip to The Fatted Calf.