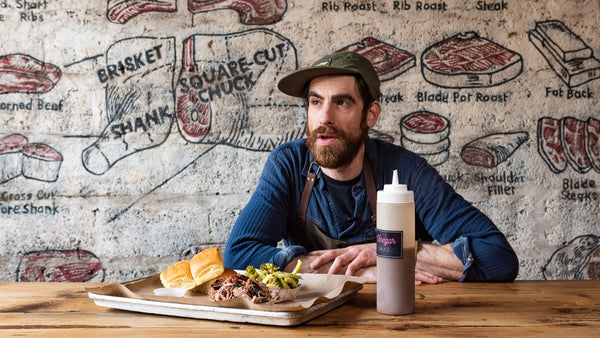 Fette Sau's Heritage Pulled Pork With Chef Allie Klein
BBQ does not need to use exclusively the cheapest meat available. As with all cooking styles, heritage breeds make every dish better. Fette Sau was one of the first BBQ joints in the US to feature exclusively heritage breeds on their menu. Before each service, the team at the restaurant would chalk the daily specials on the board with the cut listed first and the breed/farm right after. For nearly 20 years they have featured Berkshire, Red Wattle, Tamworth, and Duroc Boston Butt, Belly, Bacon Ends, and Ribs and have been an anchor to Heritage Foods!


We love walking into Fette early, before the lines start to form, and saddling up to the counter where you pick your meat and sides. The server weighs each choice, adds Martin's rolls, and you're ready to go. Through the years we have called the team each Tuesday for their order to be delivered the following week! During Covid, Fette was a key account to moving product for us and for the farmers we work with.

Allie Klein is a great pitmaster from upstate NY who is slinging perfectly cooked meats to thousands of Brooklyn visitors each week! Joe Carroll the founder is an industry trendsetter. His other restaurant St. Anselm (across the street from Fette and also in DC in partnership with the Starr group) is considered a great steakhouse, one of the best in the City. His Spuyten Duyvil next door has been at the epicenter of the craft beer scene for nearly 20 years. While still boasting one of the more original draught, canned and bottled beer lists in town, they have now found themselves immersed in the expansive world of amaro and vermouth.

Fette Sau is a great place to eat great meat. Bring a group, kids are welcome too! And the whisky selection is vast so be prepared to stay awhile!