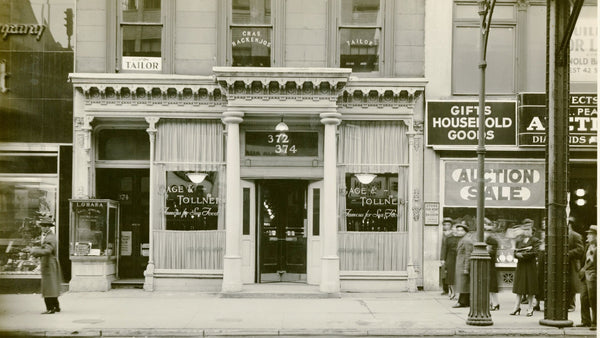 A Historic Restaurant Returns to Brooklyn
For over a hundred years, the historic restaurant Gage & Tollner was one of New York's premier restaurants. A raucous hot spot in its heyday, Gage & Tollner was known for its steaks, chops, seafood, and, of course, the experience. After some decades of decline, Edna Lewis was brought on in 1988 to add a breath of fresh air to the restaurant. Coming off the coattails of her successes in the kitchen at Cafe Nicholson and in print with hits such as The Edna Lewis Cookbook and The Taste of Country Cooking, Lewis brought new life to the restaurant.
Photo by Lizzie Munroe.
A relic from the Gilded Age, Gage & Tollner occupies a historic building that's sat on Fulton St in Brooklyn since 1875. The restaurant called 372 Fulton St its home from 1892 to 2004, when it closed. Since, the building housed a TGI Friday's, an Arby's, and a clothing store. Luckily, it is on the National Register of Historic Places, preserving its historic architecture.
In 2018, chefs and partners Sohui Kim, Ben Schneider, and St. John Frizell teamed up to reopen the celebrated restaurant and restore it to its former glory. They set out to pay tribute to the restaurant's history without simply sticking to the pre-existing script. The menu has echoes of Edna Lewis' tenure with dishes like the She-Crab Soup, Crab Cake, and Fried Chicken.
The chefs behind the revamp of Gage & Tollner have stayed true to its history in another way — the breeds. Not only are many of the dishes similar to what was made in the 19th century, so too are the animals that the meat is sourced from. We are proud to be a vendor of Gage & Tollner, offering breeds of pork that were around when the original Charles Gage and Eugene Tollner served their chops.