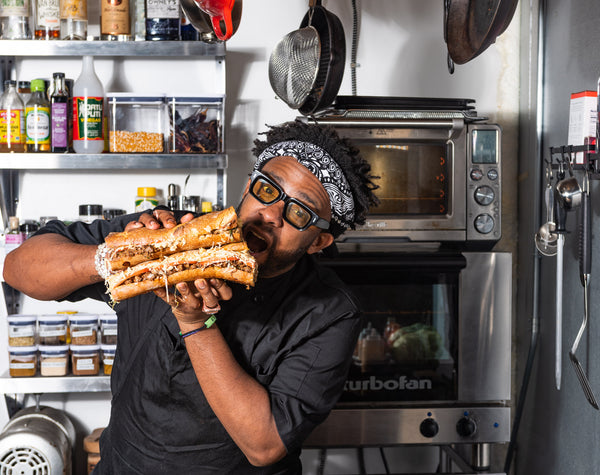 Wagyu Chopped Cheese
Formed during the pandemic by Brooklyn natives Sib, Midi & Jordan, Shmackwich began as a pop up concept serving only Wagyu Chopped Cheese — a ground beef sandwich made on a grill. Chef Sib's version features heritage Wagyu beef, cheese, roasted tomato aioli, spice mix, lettuce, and tomato on a freshly baked baguette.
Ingredients:
1 white onion, sliced
2 poblano peppers, sliced
Spice Blend
2 tbsp chili powder

½ tsp cumin seeds

½ tsp coriander seeds

1 tsp Mexican oregano 

1 tsp salt 

1 tsp black peppercorns
Roasted Tomato Aioli
12 oz cherry tomatoes

10 garlic cloves

1 cup extra virgin olive oil

5 sprigs rosemary, picked

5 springs sage, picked

5 sprigs thyme, picked

6 egg yolks

2 tbsp whole grain mustard

Quarter cup sherry vinegar

2 quarts of neutral oil
To Assemble
Mike's Hot Honey

Raclette cheese, shredded (or another melting cheese such as Galax)

Iceberg lettuce, shredded

Beefsteak tomato, sliced
Preparation:
For the Spice Blend
In a dry pan over medium heat, toast black peppercorns, cumin seeds, and coriander seed until fragrant. Grind in a spice grinder or blender with Mexican oregano until medium course. 
Mix all spices together until fully incorporated.
For the Roasted Tomato Aioli
Preheat an oven to 200º F. In a shallow roasting pan, confit the tomatoes, garlic, and herbs for about 2 hours. Remove from the oven before they start to burst. Strain the oil, reserving both the oil and the solids. Let cool.
In a blender, combine the confit tomatoes, garlic, and herbs with the egg yolks, mustard, and vinegar. Blend to combine. While the blender is running, slowly pour in the reserved confit oil followed by the neutral oil. Be sure to do this slowly to allow the aioli to properly emulsify. Add water if necessary to prevent it from becoming too thick. Season with salt and pepper to taste.
In a pan or on a griddle over medium high, sweat onions and peppers until they start to brown. Set aside and reserve. In the same pan, sear one side of the Wagyu patties until they start to brown nicely. Season with salt.
Using a metal spatula, chop the patties in the pan, mixing up the meat. Return the reserved peppers and onions to the pan and continue chopping to incorporate with the meat. Add the shredded cheese and the spice blend, and continue chopping to incorporate. When all is well combined and browned, set aside.
Toast the bread until nicely browned. Slather it with the roasted tomato aioli. Add the chopped burger, onion, pepper, and cheese mixture to the bread. Drizzle with hot honey. Top with iceberg lettuce and tomato. Enjoy with a nutcracker.