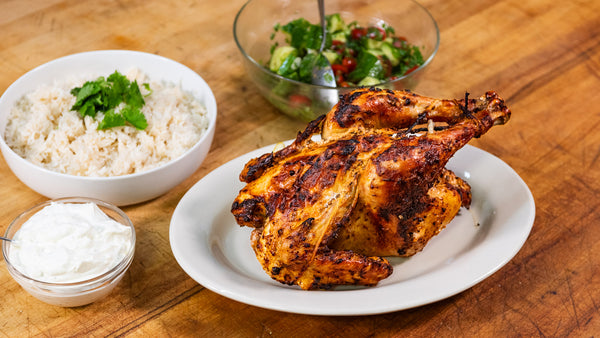 Spiced Yogurt Marinated Heritage Chicken
Inspired by the Halal carts around New York City, this recipe lends itself just as well to chicken parts as it does whole birds.
Ingredients:
1 3-4lb Heritage chicken

2 cups Greek yogurt

1 tbsp Burlap and Barrel sweet paprika

1 tbsp Burlap and Barrel oregano buds

1 tbsp Burlap and Barrel wild mountain cumin

2 tbsp OOJ olive oil

2 lemons, juiced

Salt and pepper

1 garlic clove, grated on a microplane
Preparation:
Preheat oven to 425 degrees F.
In a large bowl, mix 1 cup greek yogurt, spices, olive oil, juice of 1 lemon, and salt and pepper to taste.
Remove chicken from packaging. Remove giblets and neck from the cavity and set aside for another use. Pat chicken dry with paper towels. Season liberally with salt and pepper.
Cover chicken in yogurt mixture and refrigerate overnight if possible, or cook immediately.
Meanwhile in a medium bowl, take the remaining 1 cup greek yogurt and season to taste with salt and pepper. Add the juice of one lemon and grate 1 clove of garlic into the yogurt. Mix well and set aside.
Place chicken on a sheet pan with a wire rack and roast at 425 degrees F for 30-45 minutes or until the thickest part of the thigh reads 155 degrees F. Remove from the oven as the internal temperature will continue to rise to 165F as the chicken rests outside of the oven.
After resting for 10-15 minutes, carve chicken and serve with rice, a cucumber and tomato chopped salad, and a heaping dollop of garlic yogurt. Garish with a drizzle of olive oil and a squeeze of lemon.