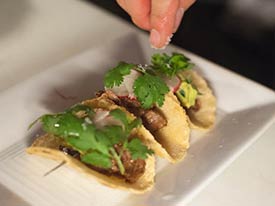 Slow Cooked Heritage Pork Tacos by Chef Kim Müller, Foodcraft in Santa Fe
You know it's true: heritage pork makes every dish better. But where can one find recipes worthy of their rich, pure flavors? Look no further than this fantastic recipe for pork tacos, made with – you guessed it – heritage pork shoulder.
Ingredients:
2 Tbsp toasted & ground cumin seed
2 Tbsp toasted & ground coriander seed
4 Tbsp ancho chile powder
¼ Cup fresh squeezed lime juice
¼ Cup olive oil
2 Tsp salt
1 Tsp black pepper
2 Cups chicken stock, or vegetable stock
Fresh corn tortillas
For Garnish: Guacamole, Pico de gallo, Cilantro, and Lime wedges (optional)
Preparation:
Make a paste with the spices, lime juice and olive oil. Rub into pork shoulder and marinate for 4 to 6 hours, or, preferably, overnight. Preheat the oven to 2oo degrees. In a heavy skillet or dutch oven, brown the shoulder in 2 tbsp of olive oil. The spices will smoke a bit. Place shoulder in a dutch oven or other heavy pot with a lid that can go in the oven. Pour in 2 cups of stock. Cover pot with foil, then the lid. Cook in oven at 200 degrees preferably overnight.
Alternatively, you can place the browned shoulder and stock in a crock pot and cook on the low setting overnight, or until the meat is very tender and falling off the bone. Shred the pork with your hands or two forks. To serve, warm tortillas and build your tacos. Have plenty of cold Negra Modelo or Mexican bottled Coke (made with sugar!) on hand.