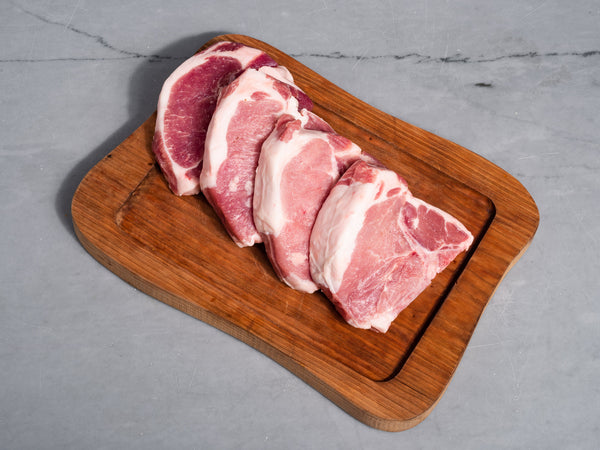 Our Favorite Pork Chop Recipes
Our Heritage chops are the perfect canvas for a myriad of seasonings and sauces and no two meals have to be the same! Here are some of our favorite flavorings for these chops.
Our famous pork chops are the very cut that put Heritage Foods and heritage breeds on the culinary map in this country — in home kitchens and at the most respected restaurants from coast to coast.

Our pork loin chops, also known as the pork T-Bone, is cut thick for a hearty, satisfying meal. Each chop includes both the loin as well as the tenderloin, allowing you to enjoy different tastes and textures at every sitting. We enjoy cooking the chops for a few minutes on each side in the pan with some salt, pepper and olive oil. We also like to cut the meat off the chops for a myriad of preparations from salad to tacos to sandwiches.
Pork Chops with Dijon-Apple Pan Sauce
Vietnamese Marinated Pork Chops, Courtesy of Ha's Dac Biet

Chef Q's Porterhouse Pork Chop Mojo Marinade Recipe