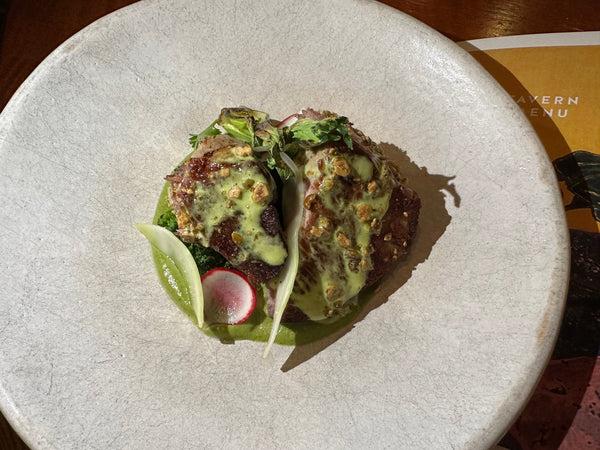 Gramercy Tavern's Boston Butt Shoulder Steak
We are proud to feature Gramercy Tavern's Grilled Pork Shoulder, which is so good we just started selling the cut on our website for the very first time in 20 years! Included is the recipe for their seasonal set, featuring broccoli, bok choy, pumpkin seeds, and cilantro crema.
Chef Michael Anthony loves the Boston Butt for this steak because it is flavorful and moist. He says the yield is impressive — almost 100%. As they cure and slow steam the shoulder in advance, the pick-up to order on the wood fired grill is fast and easy which makes his team's life easier.
This is the recipe straight from Chef Michael Anthony. An adapted version for the home cook using our Boston Butt Shoulder Steaks can be found here.
Ingredients:
For the Pork:
2:1:1 mix of salt, sugar, and rosemary
Cilantro Buttermilk Crema:
Yields 1 pint
1 egg yolk 

1 whole egg 

5 cloves garlic confit 

¼ cup garlic confit oil 

2 cups cilantro leaves and stems, washed and rough chopped

½ cup buttermilk 

1 jalapeno, deseeded 

1 cup neutral oil, such as canola or safflower

 
Pumpkin Seed Topping 
Yields 1 pint
1 cup pumpkin seeds, toasted 

8 limes, zested

1.5 cups Grana Padano Cheese, finely ground in a food processor

1 teaspoon Aleppo pepper 

 
Broccoli Puree 
Olive oil

8 cloves garlic, thinly sliced 

1 white onion, thinly sliced 

1 jalapeno, deseeded and thinly sliced 

Kosher salt

¼ cup toasted pumpkin seeds

1 head of broccoli, cut into florets, stems shaved with a vegetable peeler and reserved for garnish 

2 cups packed spinach 

½ bunch cilantro

1 cup vegetable stock 
For Plating:
Broccoli florets

Baby bok choy

Olive oil

Kosher salt

Lime juice

Mint leaves, for garnish

Cilantro leaves, for garnish
Preparation:
Curing the Pork:
Begin by boning out the pork shoulder and trimming any excess fat. Cure for two days with the mixture of salt, sugar and rosemary.
Quickly rinse. Torque into a tight cylinder the next day with plastic wrap. Steam or cook sous vide overnight at 165 degrees F, full steam, for 12 hours, then thoroughly cool in an ice bath. 
Make the Cilantro Crema:
To a blender, add the egg yolk, egg, confit garlic cloves, ¼ cup of the garlic confit oil, cilantro, buttermilk, and jalapeno. Blend until just smooth, being careful not to overheat the mixture. Then, with the blender running on high, slowly stream in the neutral oil until emulsified. Taste, seasoning with salt and lime juice as desired.
Make the Pumpkin Seed Topping:
In a food processor, pulse the pumpkin seeds a few times (or roughly chop by hand). Add the pumpkin seeds to a large bowl and mix with the lime zest, cheese, and Aleppo. Season with salt to taste.
Make the Broccoli Puree:
In a large pan, heat a drizzle of olive oil over medium heat. Add the onions, garlic, and jalapeno. Sprinkle with salt then cook, stirring occasionally, until onions are translucent, about 10 minutes. Add in the pumpkin seeds and cook another 5 minutes.
Add in the broccoli florets and vegetable stock cover, and let simmer over low heat until the broccoli is tender, 10-15 minutes depending on the size of your florets.
While the broccoli cooks, bring a large pot of salted water to a boil and prepare an ice water bath. Add in the spinach and cilantro and let cook 30 seconds, then immediately shock in ice water. Wrap blanched spinach and cilantro in a clean dish towel and squeeze well to squeeze out as much water as possible. 
Once the broccoli is cooked, let cool slightly before blending with the blanched spinach/cilantro mixture – work in batches and add broccoli cooking liquid slowly to ensure puree does not become too thin – you may not need to use all the cooking liquid.
To Assemble:
Reheat broccoli puree. Slice and grill a pork shoulder steak. Once off the grill, brush the pork with cilantro crema and top liberally with the pumpkin seed topping.
In a hot pan, sautee the broccoli florets and baby bok choy in olive oil until tender, 5-7 minutes. Season to taste with salt and lime juice.
To assemble the dish, place puree in the bottom of a large plate and use the back of a spoon to spread into a uniform puddle. Top with the pork shoulder steak, garnish with broccoli stem shavings, mint, and cilantro leaves and serve with more cilantro crema and lime wedges alongside.