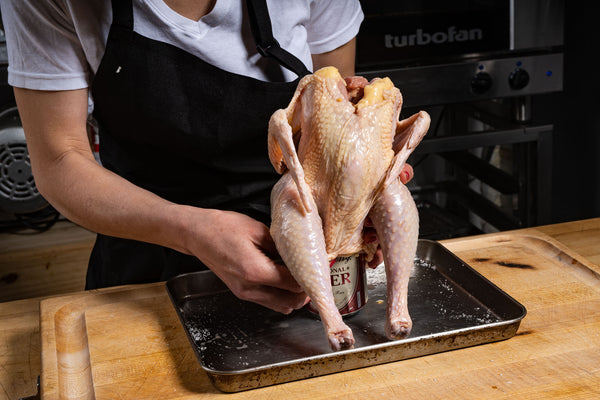 Beer Can Chicken with Beer Gravy
This beer can chicken is a fantastic way to kick off Summer this Memorial Day Weekend. Chef Hannah kept it simple to really let the heritage chicken shine! We are proud to be able to offer these stunning Good Shepherd Ranch chickens fresh for the first time — preorder now for delivery the week of June 5th.
Standardbred chickens are slow-growing and pasture raised to 16 weeks, more than double the industry standard. Each chicken is laced with ribbons of sun-yellow fat that self-baste the bird as it renders, resulting in silky meat and crackly bronzed skin. 
Beer Can Chicken with Beer Gravy
Ingredients:
1 (12oz) can lager, divided
3 cloves garlic, crushed
10 sprigs thyme, divided
2 tbsp kosher salt
2 tbsp butter
1 shallot, minced
2 tbsp all purpose flour
1 cup chicken stock
Preparation:
Preheat oven to 375 degrees F.
Crack open your beer. Pour out and save half of the beer for your gravy. Remove the tab from the can, then place the crushed garlic and thyme down inside the beer can. Place on a sheet tray and set aside. 
Dry off your bird with paper towels, then sprinkle with the kosher salt. Rub the salt in to the bird, making sure to season the cavity as well. Holding the bird upright, carefully lower it on to of the open beer can until the bird is resting on the sheet tray with the beer can fully inside the bird – it should sit securely over the can. Carefully transfer sheet tray to the oven – you may need to use one hand to steady the bird as it gets placed in the oven.
Bake for 30-40 minutes or until an instant read thermometer inserted in to the thickest part of the breast reads 160 degrees F. Carefully remove from the oven and set aside to let cool for 10 minutes. When bird is cool enough to handle, lift up off the beer can. Discard beer can and let chicken rest on a cutting board another 10 minutes while you make the gravy.
Pour drippings and any browned bits from the sheet tray in to a small bowl and skim off the fat. Set aside.
In a saucepan over medium heat, melt the butter with the shallot. Cook, stirring frequently, until the shallot is soft and translucent, about 10 minutes. Stir in the flour and cook another 3 minutes. Add in thyme sprigs, chicken stock, the pan drippings, and the reserved beer, and whisk well. Let come to a simmer. Cook, whisking occasionally, until thickened, about 5-7 minutes. Taste the gravy, adding salt as desired.
Carve your chicken and serve with gravy alongside.