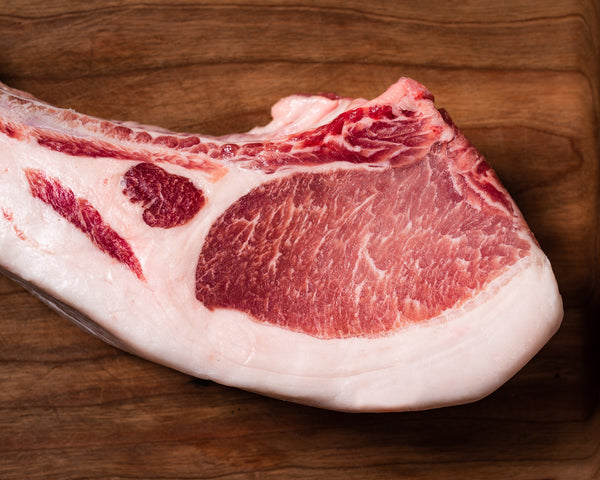 WHY IS HERITAGE PORK THE BEST PORK FOR GRILLING?? SCIENCE!!!!!
When it comes to the best pork for grilling heritage breeds win the flavor test every time.
We are speaking strictly in facts, science-based and proven from farm to table, from plate to mouth. No commercially bred pork, no supermarket special, can possibly complete. Heritage breeds are first in their class, true champions, the only pork you should even consider, especially during grilling season when the only ingredient besides the pork is fire.
The first thing you want to consider when choosing a pork chop is COLOR. We've heard it said that pork is the other white meat, but trust us when we say that what you want is a pork chop that hues closer to RED… a darker chop means the meat is holding more water. Pale meat means it has been denatured and dry. This goes for any cut, from shoulder to loin to ribs to chops. You want to see some color. This will ensure juiciness and tenderness.
BUT what it doesn't guarantee is FLAVOR.
For flavor, what you want to see is FAT.
Fat drives flavor. This is true in pork, in beef, in lamb, in any meat. Of course some breeds are ridiculously fat and others lean, and in this wonderful world there is room for them all.
David Newman, world famous meat scientist and proprietor of Newman Farms, loves especially the Berkshire pork for being so well balanced. It has lots of fat, but a good, creamy, tasty fat. They aren't obese so the fat doesn't dominate their beautiful structure, rather it is the perfect blend of high quality meat and luscious fat.
And he is quick to point out, this is no opinion — this is SCIENCE!!! Of course the proof will always be on the plate, but make no mistake, when you want juiciness look for color, and for taste, look for fat. All Heritage breeds will deliver with subtle differences, you can't lose. They are juicy and tasty and healthy. Remember: If you see a pale pork chop with no marbling…. Run in the other direction!!!