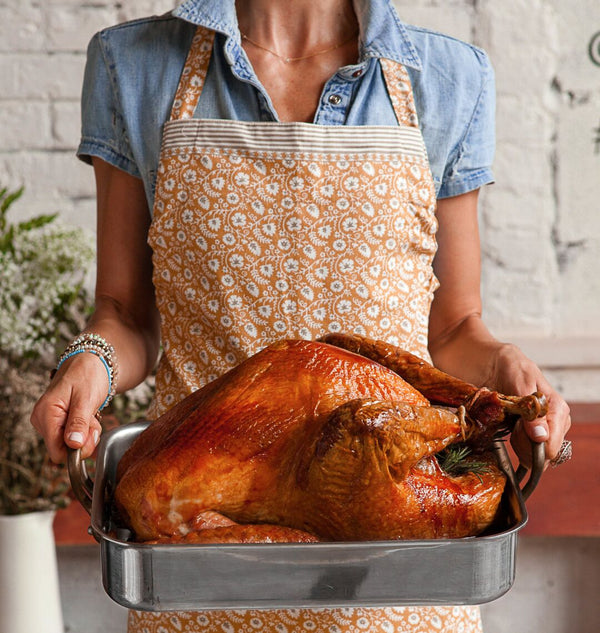 What Our Customers Are Saying
Every year we are proud as pie when the reviews from our customers come pouring in! It's not just professional chefs and restaurants who are celebrating the flavor of our Heritage Turkey's from the Good Shepherd Poultry Ranch, it is Mr. and Mrs. America, regular folks of every stripe who enjoy eating the very best turkeys in the world.
Brad from New Jersey put it simply: "The Good Shepherd turkey we had on Thanksgiving was the best we ever had. Just superb!"
Kay from Arizona exclaimed: "After about three hours and 165 temp. WE HAD THE MOST BEAUTIFUL, golden brown turkey!!!!!!!!  The skin was really crisp and I could see how different his shape was to compared with--shall I say it?, a butterball. I was quite surprised at how much white meat there was, but the dark meat and white were so juicy it had everyone ooohing and aaaaaahing."  
And Jonathan, from Connecticut joined the crowd of happy Thanksgiving gourmands:  "To say it was amazing is an understatement.  So delicious – made for a great Thanksgiving (and for great left overs as well)  Loved it – will become a tradition in our house from now on!"
We won't bore you with the dozens of other thank you notes and emails we've received, but we promise you that everyone who has ever tried a Heritage Turkey from the Good Shepherd Poultry Ranch has been over the moon for its profound flavor, and we could not be more thrilled. If you haven't tried one, we have them in stock (frozen) ready for Christmas, or any feast or family meal. You will not be disappointed — satisfaction guaranteed!!!