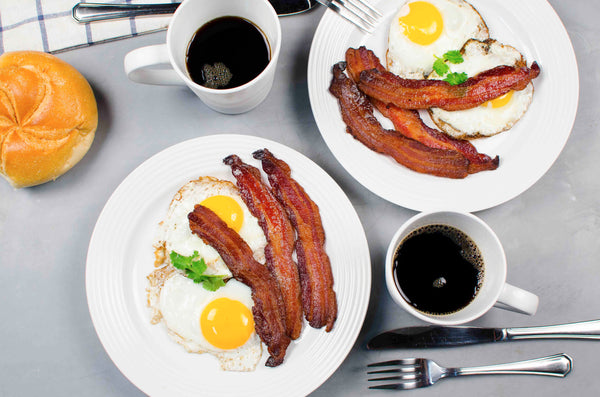 We Sure Can Pick'em: Broadbent and Benton Heritage Bacon Chosen by Food & Wine as among America's Best Bacon!
We can't pretend to be surprised, we knew it all along — our heritage pork makes the best bacon in the world, and our bacon-makin' superstars know how to bring it home! We've been singing the praises of Al Benton and the Broadbent family for years, and to see them featured in Food & Wine just makes us that more proud.
As with all of our curemasters, we send them the very best Heritage breed pork for them to turn into spectacular old-world style ham and bacon.
Al Benton's curing methods have been untouched by time. The business began in 1947 curing country hams, and have since become renowned far beyond the American South where they have been a staple for family meals and Sunday breakfast — these days Benton's bacon and ham can be found at some of the best restaurants in the world, served by chefs who prize their commitment to flavor and quality.
A few years ago we took a Heritage Foods field trip visit Mr. Al Benton at his storefront and ancient smokehouse in the Smoky Mountains of Tennessee, and were dazzled by his old-world charm and unhurried curing methods. His bacon takes about five weeks to make, moving from curing (brown sugar and salt) into cooler rooms and then finally a heated room. Al uses a wood stove in the smoke room, burning local hickory. "The wood comes in when it does," he explained. "When people are running out of beer and milk and want to sell some wood, they come see me. That's always the way it's been."
Ronnie and Beth Drennan of Broadbent Hams have won numerous championships from the National Country Ham Association, but are equally beguiling in the ways of bacon. Their salt-cured bacon has been made the same way for over 100 years in Kuttawa, Kentucky, and it is for sure the briniest bacon we offer, guaranteed to boost the flavor of anything it comes near. Which isn't to say you can't just fry it up and treat yourself, it will elevate your mood just as it does a cassoulet or a pot of beans! Of course as with all Heritage products, this bacon is made from the very healthiest animals, raised on-pasture, with no antibiotics.
Of course nothing beats going right to the source, but if you cant make it to Kentucky or Tennessee, you can bring the great flavor home with a little help from Heritage Foods.
Try Benton's and Broadbent bacon in our Bacon Sampler Package, with 4 other delicious types as well!