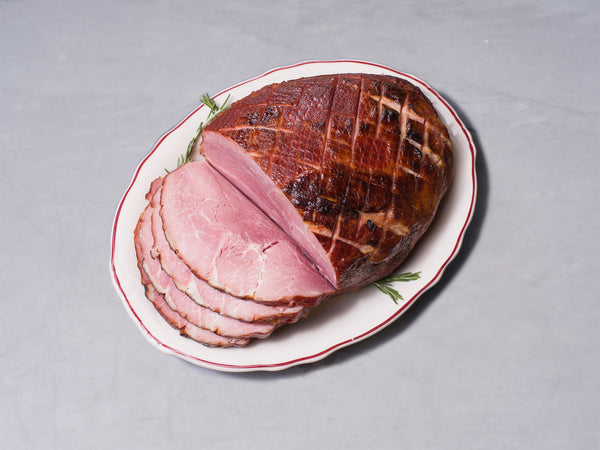 Saving the World, One Ham at a Time
Twenty years ago, the bulk of American charcuterie was cheap, commodity product. You could get a domestic prosciutto in a supermarket for half the price of Prosciutto di Parma. More recently, charcuterie in the United States is following the same trend we have seen with wine, beer, cheese, and bread. The talent chain is expanding and quality ingredients are becoming more accessible.
Says Martins, "Two decades ago, if you wanted to buy an imported beer, you paid a premium. American beer was cheap. Now the most expensive and sought-after beer is domestic, handcrafted beer, made in smaller quantities, with the best ingredients.
"The same thing is happening with high-quality charcuterie. Largely because of a new dedication to responsibly-sourced ingredients — heritage breeds, raised on pasture, humanely. The domestic version will be the sought after product. Imports will dwindle. We'll still love our Italian and Spanish hams, but they won't be nearly as prevalent, they'll be nostalgia. The market is changing right before our eyes."
This new wave is more sophisticated because of the quality of the farming. We are determined to change the taste through better ingredients — and you can't make a great ham without starting with a great pig."
There are two approaches to making a great ham — the Old-World style, best-known as Prosciutto di Parma or Jamón Serrano, and the American traditional style that comes out of the deep South, with the added step of smoking — and Heritage Foods is working with outstanding proponents of both:
Broadbent Hams, under the direction of Ronny and Beth Drennan, in Kuttawa, Kentucky, have won championships from the National Country Ham Association. They have recently added a new line of heritage breed, pasture-raised hams to their existing line of Southern Style hams, which goes back 100 years. They represent a new American style of prosciutto — lighter, with a uniquely sweet and salty flavor. The first wave will be available beginning this fall.
Cesare Casella was trained by the Norcini, the great Tuscan traveling butchers. He is a famed New York restaurateur, and Dean of Italian Studies at the International Culinary Center. His Casella's pasture-raised salami is an astonishingly nuanced example of the artform. His line of Old World-style heritage prosciutto will be available beginning in March and are sure to be a formidable presence, bringing three-hundred years of Italian tradition to the vanguard.
Antonio Fiasche from Tempesta Artisans continues a great tradition of Italian charcuterie. His family has run Ristorante Agostino in Chicago for over thirty years, and Antonio has led the charge towards expanding a curing business anchored by a wide variety of salamis and their family specialty, 'nduja, a spreadable, spicy, Calabrian pâté, which they have been making for five generations.
Al Benton cures his hams in an ancient smokehouse in the Smoky Mountains of Tennessee with little consideration for the modern world. Even though Benton is a household name in the South, he is still hands-on and present in all steps of the curing process. He is another famed traditionalist who is forwarding the cause of the American charcuterie renaissance. His strong, salty, smoky hams have always enjoyed a huge following.
In addition, the Heritage Foods roster of great curemasters includes Nancy Newsom, whose grandfather started a curing tradition in his old Kentucky home that allowed seasonal change to flavor the ham naturally; Armondino Batali in Seattle, who creates bold, charismatic salumi from pasture-raised meat; Johnny Hunter, from Underground Meats in Wisconsin; Sam Suchoff and Rufus Brown, from Lady Edison in North Carolina; and Paradise Locker Meats whose injection curing process produces delectable maple sugar hams.
Long-aged hams, salami, and other heritage breed, pasture-raised charcuterie is available directly from us right here at Heritage Foods.