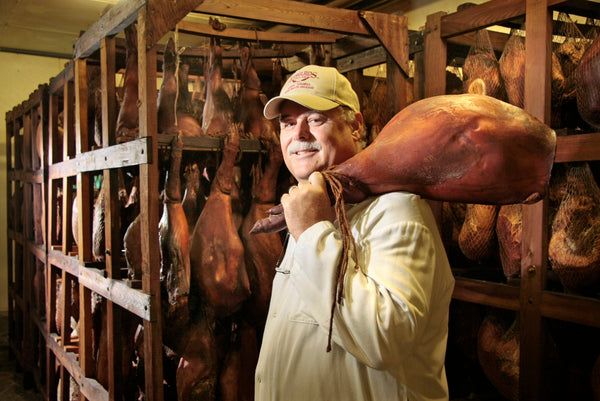 Sam Edwards Update: STILL FIGHTING!
Sam Edwards is still fighting two years after a fire savaged his entire facility including his home, his smoke house, and literally thousands of hams. It was an incredible blow to everyone that is part of the chain — Heritage had thousands of hams on hand that Sam would normally smoke and cure, and an entire network of family farmers who depend on Sam's business every year was left stranded.
But Sam was quick to make partnerships, and a new league of American curemasters stepped up and entered the high-end Heritage ham market with purebred, pasture-raised hams.
Sam is still trying to rebuild — hold ups from lawyers and insurance companies are keeping his hands tied, but plans for a new facility are already on the table, and Sam is working hard with partners across the South to produce the famous Edwards product.
"I spend a lot of time going to Alabama, Kentucky, Mississippi, North Carolina, checking on our different products with collaborators who are working with our original recipe. I'm thankful for what they are doing for us… It's not a long-term solution but they are keeping us viable."
The Edwards hams were more intense before our fire, like the difference between a mild cheese and a sharp cheese…
The one new product to look for is dry-cured Heritage Lamb, hopefully ready for late spring.
"Craig Rogers of Border Spring Farm in VA is providing the lamb… We were rolling it out pre fire, had already tested it and think we found the right recipe and were ready to start shipping when the fire hit, so we are anxious to get that online."
But the big news is that July is when we'll be getting to the first batches of new Edwards Surryano Hams that began curing in July of 2017 — the ham that started the revolution.
"After our fire, in 2016, we began sending our hams to a smokehouse in Kentucky to be ready in 2017," Sam reminds us, "but they burned down in Feb 2017 and we lost 6000 pieces of ham…"
It's been an incredible battle to get back up and keep on doing it — Sam is a true hero to us, one of our favorite partners, not to mention a damn nice guy. We can't wait.