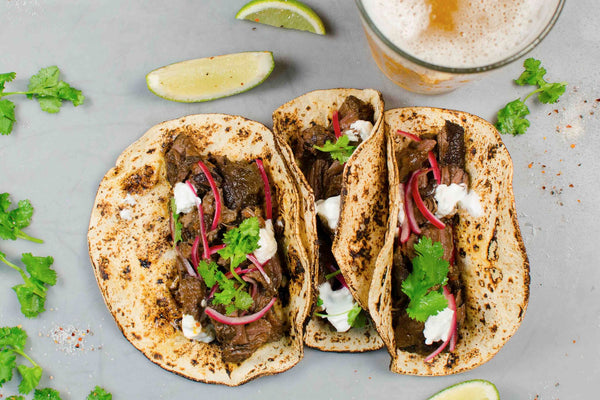 Heritage Football Favorites!
Whether you are rooting for the Patriots or the Rams this Sunday we have some football food favorites that are sure to be a crowd pleaser.
Our Heritage Wagyu burgers are the very best in the world — a cross between the revered Japanese Red Cow, known as Akaushi, and one of America's best lines of Black Angus. They are moist and flavorful enough to stand up to any cheese and even the smokiest bacon. We are 100% sure that you will find this burger absolutely exquisite — the best burger you've ever tasted. These perfectly formed, ready-to-grill 8oz patties come ready to flip.
Not even the Patriots can beat our hot dogs! We've partnered with the Brooklyn Hot Dog Company who have dedicated themselves to reinventing a healthier version of the classic dog, avoiding nitrates and fillers, using only high-quality, antibiotic-free meats and natural casings. Their offerings include specialty flavors like Pepperoni, Gyro, and Buffalo Chicken, and are guaranteed party pleasers.
But our VERY TOP PICK is our juicy, marbled, superior Heritage pork shoulder. It is super easy to prepare and can be pulled into bite-sized pieces to become the main ingredient in super-faves like Championship Pulled Pork Sliders, or our Touchdown Tacos Supreme!
Follow the recipes below for our Championship Pulled Pork Sliders and Touchdown Tacos Supreme.
To prepare the Boston Butt for pulled pork:
Start with our Heritage Boston Butt and thaw and remove pork from packaging. With paper towels, pat dry and let the meat come to room temperature. 

Preheat oven to 300°F. Season pork with salt, pepper, and seasonings as you wish.

In a roasting pan with sides, place pork, fat cap side up, in the middle of the oven. Pour a shallow layer of liquid — white wine or stock — into the bottom of the pan. 
Cook for approximately 20 minutes per pound at 300°F.  Meat should be tender and fully cooked if using this method. During the cooking process, if the liquid in the bottom of the pan evaporates, add another ½ inch as needed.
The desired internal temperature for this cut is roughly 180°F.
Rest roast for at least 20 minutes to allow for the redistribution of juices.
For the Championship Pulled Pork Sliders:
Using two forks, pull the pork into bite sized pieces. Mix with your favorite barbecue sauce and serve on slider buns with pickles.
For the Touchdown Tacos Supreme:
Using two forks, pull the pork into bite sized pieces. Place in tortilla and top of with your choice of sour cream, cheese, cilantro and salsa with a spritz of lime.