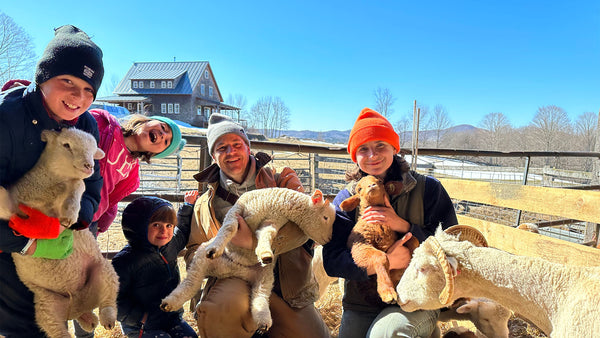 Our Visit to Tamarack Sheep Farm in Corinth, Vermont
On a hilly dirt road in eastern Vermont stands a farm that is one of the last holdouts for two very rare breeds of sheep, the Tunis and the Horned Dorset. Tamarack Farm is a presidium, a fort of sorts, for living animals that in this case have a 100-year history on this very property. Farmers Ben Machin and Grace Bowmer are a crucial resource for professional chefs who require a diverse flavor palate for their work — not all lamb should taste the same. The farm also represents a defense for our food security, a stake in the ground for diversity in our food system as awareness slowly grows regarding the importance of preventing the extinction of livestock breeds.
While we were walking the fields of this lovely farm we wondered if this spot is the last best chance to introduce the storied Tunis (and Dorset Horn) breeds back onto American dinner tables — a cause so important to us since these animals can be traced back in history to America's first Presidents who raised them and before that to thousands of years in Tunisia and the Middle East. This very lamb was renowned for a fat tail — a trait that has been lost in modern times. It is amazing that this farm holds so much history in its fields and barns.
Ben has tried sharing genetics with other farms, but it's often a tough sell as faster growing breeds are easier for farmers to raise. We, at Heritage Foods, do our best to help the cause of moving more rare breeds — as lamb, hogget, and mutton — but wish we could do more to drive up population counts of these rare breed genetics. Our greatest challenge to introducing rare breeds onto more menus is that the average American only eats 1.4lbs of lamb per year.
Grassfed through and through, Tamarack's sheep eat grass during the summer while roaming the various paddocks of the farm, and they consume grass in the form of hay during the winter. In cold times the female sheep stay mostly in the barn where everyone including the newborn babies are safest from the cold. But then April is the birthing season, so there were plenty of cute babies to be seen on our tour! 
When it was time to go, we felt as if we had visited a real landmark in the world, not unlike a sculpture garden or art museum that houses a world treasure.  But this landmark harkens back to our past, in no small part because with no cellular towers in the area, directions for how to drive home are still written on the back of a piece of paper!
Enjoy our Lamb & Mutton Package on sale for 30% off for Earth Day.