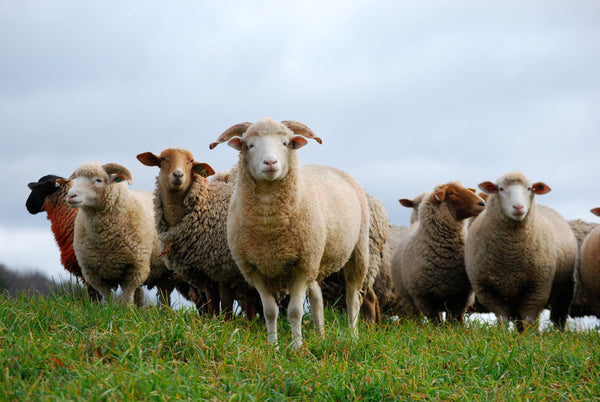 Grassfed for Earth Day
What can the meat world contribute to Earth Day? Grassfed animals.
Think bison roaming American lands, grazing on greenery, pooping to bolster the nutrients in soil — a practice in the farming world that is called regenerative farming.
Here at Heritage Foods that means heritage breed lamb and goat that are raised on grass.
"Grass, it is at the heart of our operation, and restoring grassland and soil is one of the reasons that we scaled up our operation," says Ben Machin of Tamarack Sheep Farm.
Machin and his wife Grace raise three breeds of heritage sheep on their farm located on rolling hills and green pastures of Corinth, Vermont, where the sheep have access to grass 100% of the time. In the summer, this means grass growing in the field. In the winter, or for animals housed in the barn, this means hay.
Ben and Grace make all their own hay, managing about 120 acres of hay land. They have four old John Deere tractors, and all the equipment to make round bales. They fertilize the fields and cut them three or four times each year to keep the quality high.
In Kansas, Joseph Hubbard is one of the youngest farmers in the Heritage Foods network raising our grassfed goats. Joseph learned the art of farming from his family — both goats and sheep — on the vast Flint Hill pastures around Manhattan, Kansas.
This Earth Day we celebrate the grassfed movement, which reduces the environmental impact of meat by allowing animals to roam the land, graze on greenery, and poop to bolster the nutrients in soil — it's the natural way!
Enjoy these Lamb & Mutton and Goat Packages on sale for 30% OFF.