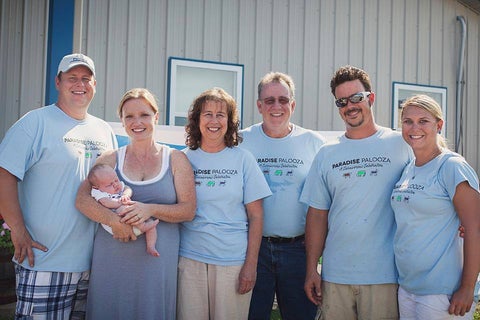 Our Partners at Paradise Locker Meats
We are proud to toast Paradise Locker Meats on their anniversary!
Paradise Locker Meats is family-owned and operated meat processing plant and retail shop in Trimble, Missouri. In business since 1995, the Fantasma Family (Mario, his wife Teresa, and sons Louis & Nick) have gained a reputation for providing quality meat products and practicing humane killing. Paradise Locker's facility is both USDA inspected and Certified Humane. They supply meat to some of the best restaurants in the country through Heritage Foods USA and the growing Kansas City market. The Fantasmas are also great curers of hams, belly and chops. Their line of award-winning sausages are created from family recipes that trace back to pre-World War II Europe.
Mario's introduction to the meat business was at S&S Meat Co. where he worked as a runner. He pulled cuts for a year and then went on to became a butcher's apprentice for several more years. When Paradise Locker Meats, a local processing facility, went on the market, Mario and Teresa jumped at the opportunity to own their own shop. Mario and Teresa took over Paradise in 1995 strictly as a custom cut shop with a very small "retail" section consisting of a single freezer. Their sons, Louis and Nick, started helping the family by cleaning up after their school day at age 15 and 13 respectively. In 2002, the facility caught fire and much of the structure was destroyed. Mario was forced to rebuild on new land in the nearby town of Trimble, but kept the name "Paradise" to let the community know that he would continue his work with local ranchers and farmers.
When Mario rebuild on 5 acres a year later, he "was planning on doing 10 hogs and 10 beef a week which is a pretty good number for a small plant." The family added a smokehouse to do a little cooking and develop select smoked products. Soon, Mario was contacted by Doug Metzger, a hog farmer near Seneca, Kansas, who was already working with Heritage Foods USA. We were looking for a processing plant that was USDA-inspected and Paradise decided to take the next step in their history. In 2004, the Fantasma family switched the business from a state-inspected facility to a federally inspected one. This change allowed Paradise to ship across state lines and process out-of-state animals.
The first Heritage Foods USA order was for 20 hogs for mail order customers. Over the next two years, this standing order grew to 60 hogs a week as we added whole sale to the operation. As the orders grew and grew, the Fantasma family finally decided to take a risk and stop breaking down whole deer to focus on the heritage hogs business with Heritage Foods USA. Patrick Martins explained, "They had to give deer season up in the hope that this kind of restaurant supported agriculture would stay." We are proud to say that it has only become stronger.
Paradise takes humane slaughter very seriously. The pigs and cattle that go through the facility are treated with the utmost care and respect. During a recent visit to the facility, Louis showed the Heritage Foods USA team the misting fan in the hog pen for summer time to keep them comfortable. "I remember the misting fan arrived, and I was putting it together," Louis said. "Our slaughter guys asked if we got a misting fan for the kill floor. I laughed and told them, 'No, it's for the hog pen outside.' But that is how we look at it. We really take care of our hogs around here." Paradise's hogs are cut to order and the facility focuses on one breed at a time to be sure customers know exactly what breed they are receiving.
Paradise Locker Meats has grown a great deal alongside local farmers and Heritage Foods USA. Over the past decade, the operation has grown from five to 25 employees, and it has also played an important role in reviving the Kansas City food community of local farmers and restaurants. Mario feels that "as a slaughter house, we give the local chefs an opportunity to utilize the products from the farmers… enabling them to use more local products on their menus." Paradise also boasts a continually growing retail outlet in the front of the plant.
On a recent visit to Paradise, Mario told the Heritage Foods USA team that their relationship "opened the doors for so many things. Now there are farmers markets that are opened up. People are wanting to raise their animals, have it processed, take it right to the market and sell it themselves. Heritage really helped us grow in that aspect."
Paradise Locker Meats process 150 hogs a week and several cattle for Heritage Foods USA.