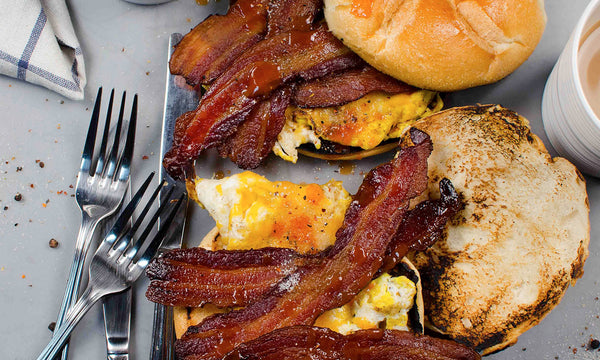 Brand New Bacon - A Taste of Napa Valley, from Farmstead Restaurant
Farmstead bacon is a "California" bacon, mild mannered and mellow. Easy to eat on sandwiches or with eggs, perfect for any time of day. It is lighter in flavor with just a bit of smoke, delicate and creamy, but with its own perky profile. We love it on avocado toast, and it pairs incredibly with a light California red, like the Pinot Noir from Farmstead! As with all our bacon, it is made from the healthiest, antibiotic-free, pasture raised heritage breed pigs.
Farmstead at Long Meadow Ranch brings food directly to their spectacular but very accessible restaurant, a true model of sustainability. They make their own wine, specifically to pair with food from their ranch and orchard. They create their own olive oil and raise their own Highland cattle, which they use in their cooking. At Farmstead, every link of the food chain is literally just steps away, and now they've added a bacon to their mix!
Farmstead bacon is cured in a dry brine, with a little brown sugar, a little cayenne pepper, a little molasses and black pepper – "just enough salt and sweet to be balanced" — and of course it is made using the best quality pork bellies from Heritage Foods.
Farmstead Executive Chef and Director of Culinary Operations Stephen Barber, the award-winning artisan who has merged America's great southern traditions with a fresh California outlook, has long been a hero to Team Heritage, and his new bacon cements it. "Farmstead means from our farm, we have our own eggs from our chickens and now we make our own bacon. We truly are making our own breakfast!"
Previously available exclusively at Farmstead, we are now proud to offer this bacon to ship to homes across the country!