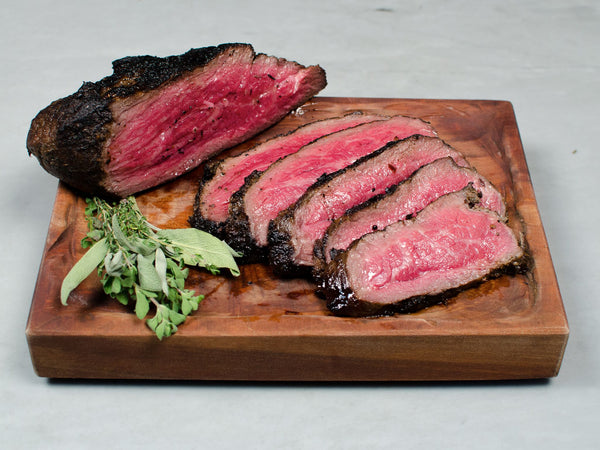 Last Minute Guests? Package-to-Table in Under an Hour! Our Favorite Roasts Ranked by Time in the Oven
One of the questions we are most asked here at Heritage (along with "What size should I buy") is "How much time does it take to cook?" Have no fear, Heritage roasts are all easy to cook and take very little time from package to table! Below, our favorites ranked by time, from literally no time at all, to a mere 45 minutes!
Our Top Selling Ham
Ready to eat, or heat and serve

Cured with sugar and maple syrup, these hams are the ultimate non-fussy food.
These hams are already cooked so they are ready for eating, but a little heat will help bring out the delicious juices of the heritage meat. You can add a family favorite glaze, or stud it with cloves, cover it with cherries and pineapples — there is no spice or seasoning this delicious ham won't welcome. From midnight morsels to lunches for the kids, this sweet and savory, and always juicy ham will beat any supermarket ham hands down! Universally loved as a centerpiece for a holiday meal, casual dining, or as the main ingredient in an iconic ham sandwich.
Oven Ready Tri-Tip
30 Minutes in the oven

The Tri-Tip is one of your butcher's best kept secrets: cut from the bottom of the sirloin but marbled like the most delicate hanger steak.  This cut boasts a supreme, toothsome texture and a flavor profile that explodes with the herbs, love, and magic, provided by Antonio Fiasche from 'Nduja Artisans. The Wagyu is one of the juiciest, most marbled breeds available anywhere.
Garlic Confit Roast 
45 Minutes in the oven

These Heritage rolled and tied roasts are fully seasoned with a slow-roasted garlic confit and a sprig of rosemary. Though simple, the taste is complex and will make you look like a master of both butchering and cooking. The hearty roasts are perfectly sized for sandwiches or a centerpiece for 3-4 guests.
Oven-Ready Calabrian Pepper-Crusted Boneless Pork Loin
45 Minutes in the oven

We won't kid you, there is a lot of great heat in the Calabrian peppers Antonio uses on this Berkshire pork loin, which are at the very heart of Calabrian cuisine. We call this masterpiece "alla diavola" — it is fiery with a sweet tang that we find devilishly seductive. A thing of rare beauty even before it is cooked, it is supremely marbled boneless Berkshire loin from Newman Farm; velvety and juicy, an epiphany of flavor, when combined with this proprietary blend of spices, a real "come to Calabria" moment. We recommend serving it with fresh, roasted vegetables and polenta and the leftovers are going to make a wicked sandwich.
Pork Loin — Bone-In Rack 
45 Minutes in oven

The pork chop from these racks is exactly what most people think of when they think "pork chop" — it is the most iconic cut in the butcher's case. Cut from the cherished center part of the loin section of the pig, this is a cut that is impossible not to love, and has been a staple of fine dining and family meals for as long as Americans have been eating dinner. Each 5-rib rack has five 12oz chops that can be separated with a steak knife, or the entire rack can be cooked whole as a roast for a festive centerpiece fit for a king.