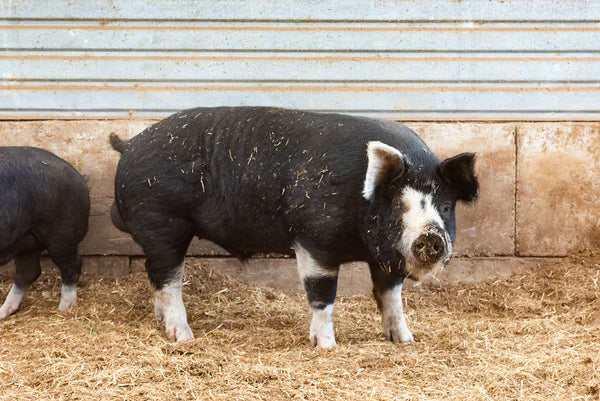 I Am a Pig.
There are about 900 million of my kind in the world. Wherever I have ever existed, humans have done well. My domestic brethren are fertile year round and offer a reliable source of food. I was the primary source of meat for middle Stone Age peoples. Cro-Magnons drew pictures of my kind on the walls of Altamira over 30,000 years ago.
I am closer in intelligence and trainability to a dog than any other livestock. My snout is a sensitive tool for exploring and smelling. My kind are meant to scavenge and forage. I love to root. In the past, I prepared land for crops and I cleared forested land. I am industrious. I helped humans build resistance to diseases like influenza, flu and pertussis.
Lard from my back fed Roman armies and was a principle source of protein for troops in The Revolutionary War. My lard makes soap, candles, and is used for cooking. It has been said that my bacon is the olive oil of the Americas. I was brought here by Vikings, Columbus, Cortes, and de Soto. Just like the humans, I settled in Jamestown. The Pilgrims brought me to Massachusetts. I came to your shores from China, Russia, Africa and the Pacific. I used to roam free on city streets keeping them clean. Cincinnati is known as Porkopolis and Chicago as the Hog Butcher to the World.
Today, factory farms have violated the sacred relationship we have developed with you over millennia. Of the 90 million of my kind in the U.S., almost every one is raised in crowded barns, removing any chance for our curiosity and intelligence to flourish. This has made us meaner to you and each other. I am fed food that is unfit for consumption.
Today most of my kind have weak genetics. We are pushed to grow too fast and yield unnaturally lean meat. Because of these living conditions, we develop new diseases and I now need medicine in my food. By stupidly relying on only two genetics, my rich diversity is risking extinction. You decrease the chance that my kind can ever again become the strong, proud animal it once was.
But there is hope. Hope flickers on family farms that dot the surroundings of your farmers markets and in places like Kansas and Missouri where rare and heritage breed associations honor us. Companies like Heritage Foods USA actively maintain our strongest claim to a secure future. All Pigs vote for Heritage Foods USA, its farmers, and its processors. Won't you?