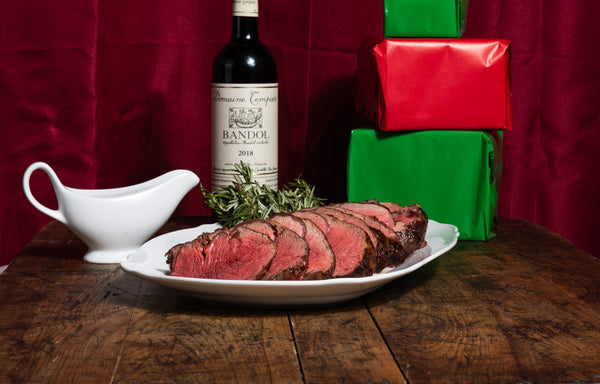 Holiday Gift Ideas!
Sick of struggling to find something for that person who 'has everything'? We are happy to solve your holiday gift conundrums.
Giving a heritage breed package is so much more than just a selection of high quality meats. Not only is your gift practical and delicious, it helps to sustain the farmers that maintain a viable stock of rare and endangered breeds identified by the American Livestock Breed Conservancy. Heritage Foods USA is proud to be working with over forty different farms, often the only producers in the nation of specific breeds. Why is that important? Believe it or not, our future food security depends on maintaining heritage and heirloom varieties.
With sixty different breeds in our portfolio, we work closely with our producers fulfilling the promise of selling their whole animals, the greatest marketing challenge to any farmer. Selling off an entire carcass takes time, know-how, and above all, connections. Farmers can sell into farmers markets, or restaurants, but selling everything from nose to tail is much more difficult. We do that work for them, making sure that they can raise their animals in the traditional ways that guarantee a superior tasting product, the result of being allowed to live a normal life engaged in characteristic behavior, free of stress or fear.
By curating a range of imaginative gift packages that we can deliver overnight, we offer an opportunity to experience the gastronomic landscape of our forebears. Breed variety packs might include ducks, geese, or chickens, or a suite of different breeds of pork or beef. Every breed has a rich history and a unique genetic array that determines how well it will thrive in various regions, weather, or foraging conditions. Some breeds are centuries old, others are more recent, but all are the result of careful hybridization by farmers deeply knowledgeable about what makes an animal flourish.
Buying ground meat variety packs is a great way to experience the differences in flavor between breeds, and between animals. Most carcasses yield a high percentage of meat that is only appropriate for grinding, so this option is a key strategy to making use of an animal from nose to tail. Plus the versatility of ground meat makes it universally popular–burgers, ragus, meatballs, casseroles and more. Dinner has never been easier.
An excellent cost-effective option is a "nose to tail" package, buying shares in a whole animal, such as a half of a Katahdin Lamb, an eighth of a Piedmontese cow, or a quarter of a Red Wattle Pig. This is a wonderful way to experiment with cooking the various cuts, each one lending itself to a particular preparation—roasting, braising, sauté.. its up to you.
For the more traditional, Heritage Foods USA has plenty of satisfying options such as The Steak Lovers Package: New York Strips, Ribeyes, and Tenderloins, or the Pork Lovers Package of Porterhouse Pork Chops, a Tomahawk Rack of Ribs, Bacon, and Sausage.
We also offer subscriptions, an exciting monthly package that highlights the best of every season. Lambs in spring, pork in the fall. Animals have seasons too, just as fruits and vegetables do. Thanks to commodity animal agriculture, those nuances have been displaced or forgotten. Take back the flavors and breeds that are your birthright!
Our heritage animals never receive growth promotants of any kind, only fresh air, clean food, and plenty of TLC from producers like Larry and Madonna Sorell, Craig and Amy Goode, or our 16 year old 4H student who is raising pigs for us. The entire Heritage family of farmers is engaged in a powerful cause that we all believe in. Join us, support these farmers, and show your love for traditional agriculture. Shop at Heritage Foods USA. Your popularity will be guaranteed!
The post Holiday Gift Ideas! appeared first on HERITAGE FOODS USA.