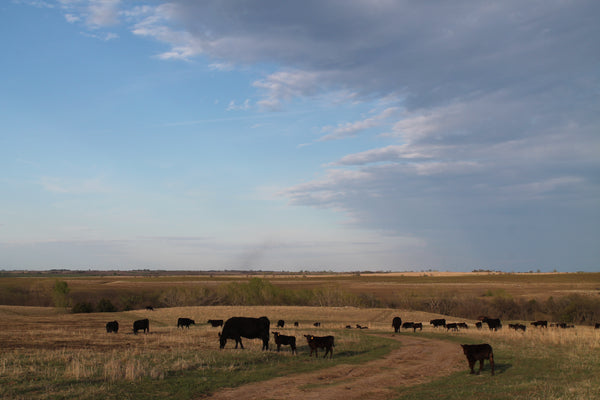 Good Farm — Heritage breeds raised in the Kansas Flint Hills
Craig Good was introduced to Heritage Foods through the Kansas State Ag program. We drove out to Olsburg, Kansas to meet him and were impressed by the rolling pastures of his large for a small farm. At the time of our first visit in 2005, his grassy hills were populated by a small herd of Angus cattle ranging on the Flint Hill tallgrass.
Anywhere tallgrass grows makes for a great and sustainable terroir for cattle. Tallgrass is the food the prairie produces naturally in the absence of intensive row-crop agriculture. Unlike corn, tallgrass is not dependent on petrochemical fertilizer or herbicide, and its roots run deep below the thin layer of topsoil. It is potent, incredibly resilient, the all-you-can-eat salad bar for healthy cattle.
Varietals like Bluestem, Little Bluestem, Indiangrass, Switchgrass, Prairie Dropseed, and Sideoats Grama have stalks whose profound roots are able to pull moisture and nutrients from deep within the ground, making them the best candidates to withstand the drought and deluge likely to accompany climate change. They are resistant to all types of extreme weather, and they bounce back quickly, even from fires. And they do not rely on the dwindling power of the thin layer of topsoil to grow.
The result of this robust food supply is a steak with a nice even ratio of intra- and extramuscular fat, a beefy and clean taste, perhaps not as buttery as the corn-fed cattle we've gotten used to, but more finely nuanced, a natural delight. It is the taste of the Americas.
When meeting with Craig and Amy we asked the question, could these very same grasses and pastures be used for raising pigs? It is unusual for pigs to be given as much space as cattle, but the Goods thought it perfect.
Craig and his Father Don raised their own line of 100% Duroc and so that was the first breed they raised for us. The Duroc is known for the large eye of its loin and for excellent bellies. The Duroc is a foundational breed for the commodity pork industry, but the factory farmers have selectively bred the Duroc for certain traits over many generations, making it virtually unrecognizable in appearance and behavior to its original ancestors like the ones on the Good Farm. These 100% pure genetics deserved to be raised in more numbers and so Craig started to greatly expand his tiny herd.
As our relationship grew over the years, Craig understood the importance of raising breeds that are considered rare as well as the Duroc, which is only rare in its pure form. So he introduced onto his farm breeding boars and sows from the Tamworth breed and the Gloucestershire Old Spot breed. Those lines are increasing in numbers as well.
Today Craig delivers about 35-40 head a week of the cleanest, happiest, most lovely hogs in the world. You can try the Duroc in our bacon sampler, cured by the great curemaster Allan Benton. His Tamworth and Old Spot can be found in various cuts like our porterhouse pork chops packs and boston butt offerings!