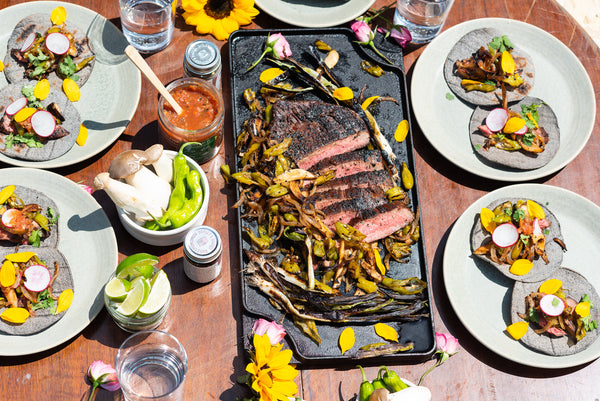 Father's Day 2021 Gift Guide
Father's Day is fast approaching — June 20th this year — and it's time to get the dad in your life a gift! The best kinds of gifts are ones that you can share and remember, and what's better than the best meat around? Check out our suggestions below.
For the Grill Master — Porterhouse Pack: Beef, Lamb, and Pork
If your dad loves to man the grill for hours on end, our Porterhouse Pack is made for him. The porterhouse is the king of all steaks. Cut 1.5 inches thick from the most prized section of the strip loin, the porterhouse combines flavorful NY Strip with the tender filet. It can be a difficult cut to cook, as the strip and the tender cook at different rates. If he's truly a grill master, he'll love the challenge. 
For the Bacon Lover — Bacon Lover's Sampler
Does your dad love bacon? Then get him the Bacon Lover's Sampler — nine different styles from seven American curemasters, all made with 100% heritage breed pork. Heritage bacon is truly a special treat, and this package showcases the diversity of what bacon can be.
For the Beef Lover — Signature Wagyu Steak Sampler
Does your dad love a big, medium rare steak? Then this is the gift for him. Our Wagyu beef boasts a big, rich taste with a long, delicious finish and tangy, aged flavor. We think these are among the best steaks in the world, and need little more than salt and pepper. This package includes our Signature Wagyu Porterhouse and Ribeye, as well as a pure Akaushi Ribeye. Your dad will love to explore the nuances of these breeds and cuts, and hopefully you get to eat it too!
For the Whole Family — Wagyu Flank Steak Fajitas Dinner Kit
The best kind of gift is one everyone can share! We teamed up with some of our favorite producers for this dinner kit, which includes 2-2.5lb of our Pure Akauashi Wagyu Flank Steak, Trumpet Mushrooms from Smallhold, Shishito Peppers from Ark Foods, Black Urfa Chili and Wild Mountain Cumin from Burlap & Barrel, Fresh Salsa from Jalapa Jar, and Blue Corn Tortillas from La Milpa De Rosa. Give dad a chance to man the grill for a while and give everyone else a delicious meal!