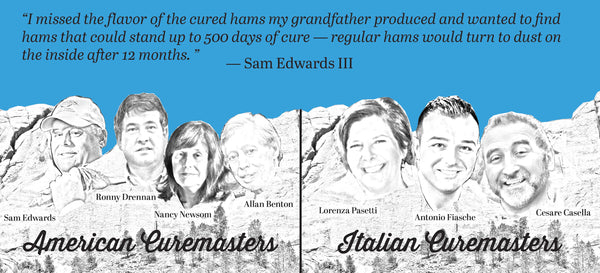 America's most celebrated curemasters are now curing long-aged hams from our 100% heritage breed pigs!


America's most celebrated curemasters are now curing long-aged hams from our 100% heritage breed pigs!

Heritage Foods and its network of family farms — raising purebred Berkshire, Red Wattle, Tamworth, Gloucestershire Old Spot, and Duroc breeds — are providing the primary ingredient for these hams, all raised on pasture and antibiotic-free.

Representing over 500 years of American gastronomy, each of these artisans has a regional style that imparts unique and world class flavors to the products they produce. Heritage Foods is the first company to offer heritage breed pork on a scale large enough for long-agers of hams to launch these premier lines. Each breed of pig boasts a pure genetic lineage traceable back before the dawn of industrial farming.
Casella's Heritage Prosciutto from Cesare Casella's est. 2016
delicate and nutty; Italian-style prosciutto; aged 18-24 months
boneless, 11-15lb, or sliced

Surryano from Edwards Virginia Smokehouse est. 1926
salted and hickory smoked; prosciutto/Serrano style; aged 14-24 months
boneless, cleaned, 10-12lb, or sliced

Broadbent's Heritage Dry Cured Country Ham from Broadbent's est. 1909
sweet, salty, lightly smoked; prosciutto-style country ham; aged 12 months
boneless in three pieces, 11-13lb

Newsom's Free-Range Country Ham from Newsom's Country Ham est. 1917
complex, clean pork flavor; long-age country ham; aged 13-20 months
bone-in, 17-20lb

Volpi Heritage Prosciutto from Volpi Foods est. 1902
sweet and nutty; Italian-style prosciutto; aged 18 months
boneless, cleaned, 9-12lb, or sliced

Benton's Extra-Aged Ham from Benton's Smoky Mountain Country Hams est. 1947
hint of smoke; deep, rich, flavor; aged 20 or 27 months
boneless, cleaned, 10-12lb

Tempesta's Heritage Culatello from Tempesta Artisan Salumi est. 2013
salt, pepper and red wine; savory with deep flavor; aged 12 months
boneless, cleaned, 3-4lb
Each ham comes with a cloth netting for easy storage. Simply slice thin with a sharp knife. Each ham lasts 6 months or longer in the refrigerator.
More About Heritage Foods and Heritage Breed Hams
Beginning with the advent of factory farms in the 1950s and 1960s, livestock breeds were selected for a new purpose – not health, balance, strength, marbling, and flavor– but merely profitability. Fast growth was a priority, and decades of selecting which animals would be used to birth the next generation changed the biology of the food chain, and led to animals that were genetically weak and unhealthy, not juicy and not tender, even though they grew quickly and yielded large amounts of meat.
Heritage Foods is proud to be a leader in the movement towards higher-quality, heritage breed hams cured in the old-world style. As Carlo Petrini, founder of Slow Food says, "It's time to relieve Italy and Spain from being responsible for producing so much of the prosciutto in the world. Each country must develop its own traditions. I want less talk and I want to see products!" It's slowly starting to happen! For lovers of prosciutto and champions of traditional farming, this is a dream come true. There is simply no higher-quality charcuterie.