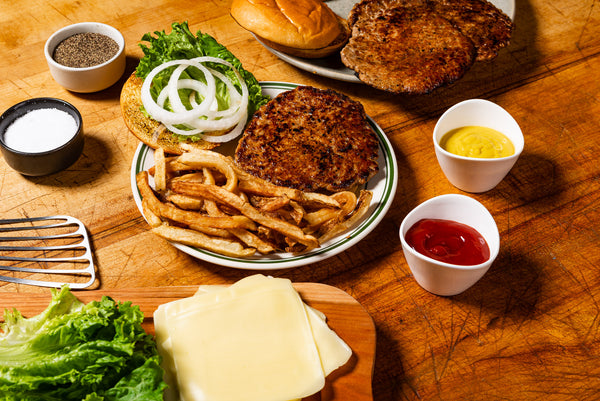 Turkey Smash Burger with Momofuku Chili Crunch
Turkey Smash Burgers 
Makes six single-pattie burgers or three double-pattie ones
Ingredients:

1 pound ground turkey meat, completely defrosted

1 tsp garlic powder

1 tsp onion powder

Large pinch of black pepper

1 tbsp Momofuku chili crunch

½ stick of cold butter cut into very small chunks, plus more for toasting the buns

Kosher salt

3-6 hamburger buns

Sliced cheese

Shredded lettuce

Thinly sliced onions (I like red) 

Sliced tomatoes, lightly salted

Sliced pickles
Preparation:
In a large mixing bowl, combine turkey, garlic power, onion powder, chili crunch sauce, and pepper. Fold in cold butter, making sure it is evenly distributed but not melted. You should be able to see dots of butter in the meat.
With lightly oiled hands, divide the meat into six equal sized patties and set aside. No need to fuss about getting them each the exact same weight. Close enough will do. 
Place a pan on the stove on medium-high heat. While the pan comes to temperature, lightly butter the buns. 
When the pan is ready, toast the buns, gently pressing down in the middle to make sure they have direct contact with the pan. Toast for about 1-2 minutes and remove to a plate, making sure the tops and bottoms of each bun stay together to help keep them warm. Do this in multiple batches if there is not enough room in your pan to cook them all at once.
Wipe any crumbs from the pan. Liberally salt the turkey patties and place in the frying pan making sure to leave enough room for when you press them down. To smash, lightly oil the bottom of a clean, small saucepan or a spatula and use the oiled bottom to press down on the burgers so they are about ¼ inch thick. The oil ensures they won't stick to the saucepan or spatula. Cook for about 2 minutes and flip. They should be nice and crusted. 
Add cheese and cook for about two more minutes. 
Place one or two patties on a bun, top with tomato, lettuce, onions, pickles, more Momofuku chili crunch if you'd like, and your favorite condiments, and serve.