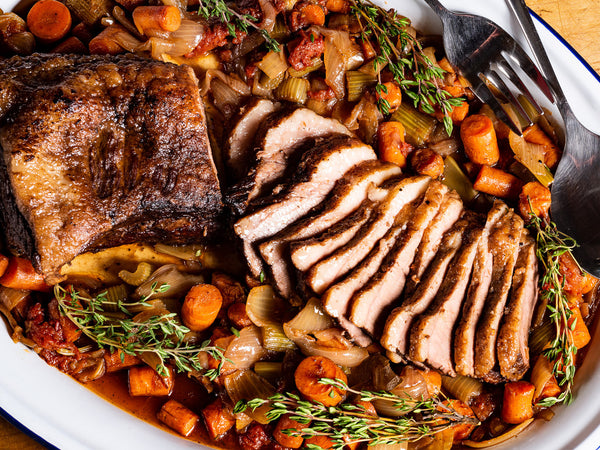 Passover Braised Brisket Recipe
Historically one of the last cuts to be consumed from the previous year's harvest, the 
brisket
 provided valuable calories before the first foods of spring became available. As a result, March and April traditions abound with brisket as the centerpiece — no matter your religion, the brisket reigns supreme.
Ingredients:
6-7lb Brisket 

Salt and pepper 

5-6 medium Spanish onions, sliced ¼" thick

5-6 medium sized carrots, large dice

5-6 ribs of celery, large dice

1 head of garlic, peeled and smashed

1 cup of red wine

1 14 oz can of whole San Marzano tomatoes (crushed by hand)

⅓ cup of ketchup

5 sprigs of thyme

3 bay leaves
Preparation:
Preheat your oven to 300F.
Remove thawed brisket from packaging and pat dry with paper towels, trim any excessive fat from the cap leaving about ¼" of fat and season liberally with salt and pepper.
In a large skillet or dutch oven over medium heat sear all sides of the brisket until brown 4-5 min on each side. Remove brisket to a roasting pan.
To the large skillet or dutch oven over medium-high heat add onion, carrots, celery and garlic and sauté until lightly browned about 4-5 minutes.
Add wine, bring to a boil, and reduce to a simmer, scraping the fond (browned bits) off the bottom of the pan with a spatula or wooden spoon.
Stir in tomatoes, ketchup, thyme, and bay leaves and return to a simmer.
Add your braising mixture to the roasting pan with the brisket, cover tightly with foil, and place in the oven for 3-4 hours until the brisket is tender.
Remove from the oven and let cool slightly for 30 minutes in the liquid. 
Remove brisket from braising liquid, slice thinly against the grain, and plate on a large platter. Spoon the veggies and braising liquid over the meat, and serve with an egg noodle kugel or any of your favorite holiday sides and a New York Sour!