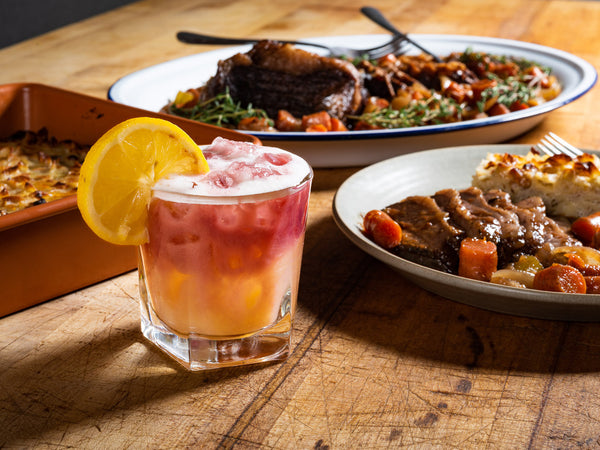 New York Sour Cocktail
By Matt Botkin, our in-house professional bartender!
This is an old school cocktail in the classic tradition of only using a few ingredients. A spirit forward drink, you will want to use a nice Rye. We used Empire Rye from the Van Brunt Stillhouse in Brooklyn. We picked this cocktail because darker liquors are ideal companions for heartier braised cuts like the brisket and pairs wonderfully with our Passover Braised Brisket recipe. Also, it's a nice drink for Passover because you can use Manischewitz wine as the floater on top. You can adjust the amount of simple syrup called for in the list of ingredients based off how sweet the wine is that you use to make the drink. We love the New York Sour because even though it only uses a few ingredients one of them is egg whites which is used to create the foam on top of the drink along with the red wine. Egg whites are one of the oldest ingredients in cocktails!
Recipe:
1 egg white

1/2 lemon juice

1/2 simple syrup, adjust for sweetness of red wine

2oz rye whiskey

1/2 oz red wine
Add all contents to a cocktail shaker with ice, except the wine.
Shake vigorously until you feel the chill on the side of the shaker.
Pour into a rocks glass, without straining to preserve the foam.
Pour red wine slowly over the back of a spoon over the glass to float. 
Garnish with lemon wheel.