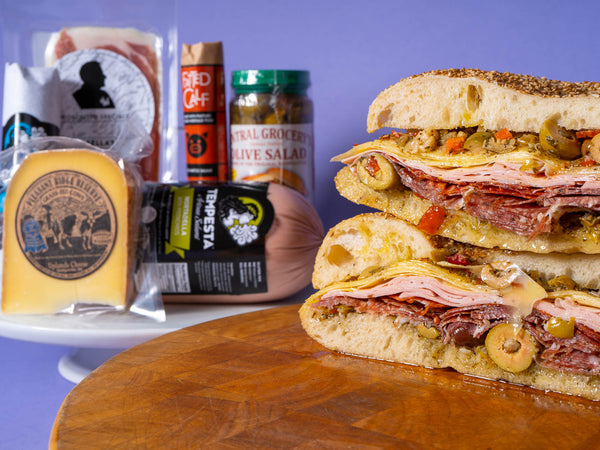 Muffaletta Sandwich
We sandwiched together the great artisans in the US to honor New Orleans! And we created what we believe is the perfect team to construct a new-and-improved version of the classic Muffaletta sandwich, but using only sustainable ingredients. Find the kit available here.
Our co-conspirators include Daniel Eddy, famed chef and owner of Winner Brooklyn; Central Market in the French Quarter who are masters of the signature olive salad; and of course cured meats including prosciutto from Casella's, mortadella from Tempesta Artisans, and a delightful Red Wattle breed salami with black pepper and Spanish Pimenton from Fatted Calf.
Winner
Winner, as the Founder states, is a small, yet quickly expanding Brooklyn based business trying to figure it out! Daniel Eddy and his wife Elena run this multifaceted business that includes a butcher shop, a cafe renowned for its delicious breads and baked goods, two restaurants, and a brick and mortar spot in the heart of Brooklyn's Prospect Park — the best place to eat in the 526 acre space. 
Casella's
Cesare Casella's prosciutto is something special. Made exclusively from our rare-breed heritage pigs, Casella's follows a time-honored Italian recipe — happy, healthy pigs, salt, and time — there are no other ingredients in these hams. The results are consistently gorgeous — juicy, marbled meat with a delicate nutty flavor.
Tempesta Artisans
Tony Fiasche is a one man show but his reach is unbelievable. His products are everywhere, and he himself is everywhere — at all the trade shows, food events from coast-to-coast, and so many markets, including his own in Chicago — providing tastes to passersby. Tony is determined to showcase his products and he has the highest ambitions for each and every delicious food he produces.
Fatted Calf
Each week the Fatted Calf brings in thousands of pounds of heritage pork for their two butcher shops and retail line of delicious Fatted Calf bacon! Their two beautiful shops are located in Napa at Oxbow Market and in San Francisco at the Ferry Plaza. 
Ingredients:
1 Winner muffuletta loaf, sliced in half horizontally 
1 16 oz jar, Central Grocery Olive salad
8 oz Heritage Mortadella, sliced thin
4.5 oz Black Pepper Soppressata, sliced thin
4.5 oz Red Wattle Pimenton Salami, sliced thin
6 oz Casella's Sliced Heritage Prosciutto, two packs
8 oz Uplands Cheese Pleasant Ridge Reserve, sliced thin
Extra virgin olive oil, as needed
Preparation:
Slice your freshly baked Muffaletta loaf in half across the equator horizontally.
Drizzle some extra virgin olive oil on both sides of the loaf.
Spread out half of the olive salad across the bottom of the loaf.
Start layering the meats and cheese starting with prosciutto followed by the salamis, mortadella, and cheese in that order.
Spread the remaining olive salad across the top of the meats and cheeses.
Close your sandwich with the top piece of bread. Slice into triangles or squares and serve.
Note: Slicing the meats and cheeses without a deli slicer can be done with a sharp knife and some patience, but if you are friendly with your local grocery deli counter you can ask them nicely to slice it for you!