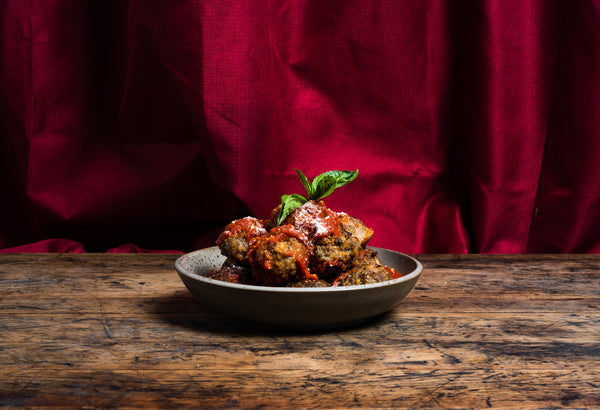 Mediterranean Lamb Meatball Recipe from The Meatball Shop!
When the Meatball Shop first opened THIS was their very first daily special. 4 years, and 5 new locations later we still get excited when they bring them back! The raisins and walnuts give these meatballs a subtle sweet and earthy quality that complements perfectly our heritage lamb. Make these into mini balls and pass them around at your next party, or try our favorite– Smash 'em between two pieces of crusty bread for a quick slider!
Ingredients:
2 TABLESPOONS OLIVE OIL
2 POUNDS GROUND LAMB
3 LARGE EGGS
1 CUP DARK RAISINS
½ WALNUTS, FINELY CHOPPED
½ CUP CHOPPED FREASH PARSLEY
½ CUP CHOPPED FRESH MINT
½ BREAD CRUMBS
2 TEASPOONS SALT
1 TEASPOON FRESHLY GROUND BLACK PEPPER
Preparation:
Preheat the oven to 450 degrees. Drizzle the olive oil into a 9-by-13-inch baking dish and use your hands to evenly coat the entire surface. Set aside. Combine remaining ingredients in a large mixing bowl, and mix by hand until thoroughly incorporated.
Roll the mixture into round, golf-ball-size meatballs (about 1½ inches; about 24 balls), making sure to pack the meat firmly. Place the balls in the prepared baking dish, being careful to line them up snugly and in even rows vertically and horizontally to form a grid. The meatballs should be touching one another.
Roast for 20 minutes, or until firm and cooked through.
Allow to cool for 5 minutes before servings.