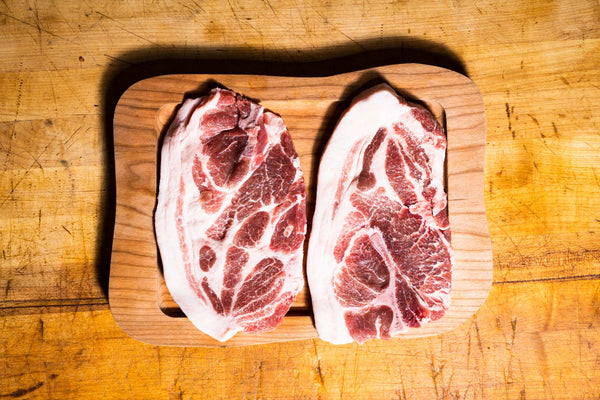 Gramercy Tavern's Boston Butt Shoulder Steak, Adapted for the Home Cook
The Boston Butt Shoulder Steak – or blade steak — is a newcomer for us!
We decided to finally premiere the new cut because one of America's most popular restaurants, Gramercy Tavern, has featured these steaks on their menu everyday for the past year.
Chef Michael Anthony of Gramercy Tavern loves the Boston Butt for this steak because it is flavorful and moist. He says the yield is impressive — almost 100%. As they cure and slow steam the shoulder in advance, the pick-up to order on the wood fired grill is fast and easy which makes his team's life easier. 
We've adapted their recipe for the home cook, but if you are adventurous and cooking for a crowd, see Gramercy Tavern's full recipe here.
These are the famous butts that helped put Heritage Foods and the term heritage on the national map! The supreme marbling of heritage breeds makes these hunks of meat as delicious as any steak!
Gramercy Tavern is a world famous restaurant, earning awards from the James Beard Foundation and Wine Spectator, as well as a Michelin star. A remarkable amount of labor goes into each dish, so we created a simplified version of the recipe for the home cook, in addition to the full recipe from Chef Michael Anthony. Whichever path you choose will result in an impressive, delicious dish that is, of course, starring our unparalleled Heritage breed pork shoulder steaks.
For the Home Cook
Ingredients:
For the Pork Shoulder Steak:
2 Heritage pork shoulder steaks, 1-2lb total

2 teaspoons kosher salt

1 teaspoon white sugar

1 teaspoon rosemary leaves
For the Cilantro Crema:
5 cloves garlic

1 cup olive oil, more as needed

1 egg yolk

1 egg

2 cups cilantro leaves and stems, roughly chopped

½ cup buttermilk

1 jalapeno, deseeded

1 cup neutral oil, such as canola or safflower

Kosher salt to taste

Lime juice to taste
For the Pumpkin Seed Topping:
¼ cup toasted pumpkin seeds

Zest of 2 limes

1/3 cup Grana Padano Cheese, finely ground

¼ teaspoon Aleppo pepper

Kosher salt to taste
For the Broccoli Puree:
Olive oil

4 cloves garlic, thinly sliced

½ white onion, thinly sliced

½ jalapeno, deseeded and thinly sliced

Kosher salt

2 tablespoons toasted pumpkin seeds

½ head of broccoli cut into florets,

stems shaved with a vegetable peeler and reserved for garnish 

1 packed cup spinach

¼ bunch cilantro, leaves and stems

½ cup vegetable stock
 For Plating:
Broccoli florets

Baby bok choy

Olive oil

Kosher salt

Lime juice

Mint leaves, for garnish

Cilantro leaves, for garnish
Preparation:
Cure the Pork Shoulder Steaks:
Mix together the salt, sugar, and rosemary. Rub cure mixture into both sides of the pork steaks, cover and refrigerate for 48 hours. After 48 hours, quickly rinse the steaks – no need to remove all the cure mixture, just most of it. Set aside to come to room temperature.
Make the Cilantro Crema:
Confit the garlic – preheat oven to 200º F. Into a small, deep baking dish, small sauce pot, or other ovenproof vessel, add the garlic and olive oil, adding more oil as needed to ensure the cloves are fully submerged. Place garlic and oil mixture in the oven and let cook 2 hours or until garlic appears golden brown and is easily pierced with a sharp knife. Allow to cool to room temperature before using (extra garlic confit oil can be stored in the refrigerator up to 1 month).
To a blender, add the egg yolk, egg, confit garlic cloves, ¼ cup of the garlic confit oil, cilantro, buttermilk, and jalapeño. Blend until just smooth, being careful not to overheat the mixture. Then, with the blender running on high, slowly stream in the neutral oil until emulsified. Taste, seasoning with salt and lime juice as desired.
Make the Pumpkin Seed Topping:
In a food processor, pulse the pumpkin seeds a few times (or roughly chop by hand). Add the pumpkin seeds to a large bowl and mix with the lime zest, cheese, and Aleppo pepper. Season with salt to taste.
Make the Broccoli Puree:
In a large pan, heat a drizzle of olive oil over medium heat. Add the onions, garlic, and jalapeño. Sprinkle with salt then cook, stirring occasionally, until onions are translucent, about 10 minutes. Add in the pumpkin seeds and cook another 5 minutes.
Add in the broccoli florets and vegetable stock cover, and let simmer over low heat until the broccoli is tender, 10-15 minutes depending on the size of your florets.
While the broccoli cooks, bring a large pot of salted water to a boil and prepare an ice water bath. Add in the spinach and cilantro and let cook 30 seconds, then immediately shock in ice water. Wrap blanched spinach and cilantro in a clean dish towel and squeeze well to squeeze out as much water as possible.
Once the broccoli is cooked, let cool slightly before blending with the blanched spinach/cilantro mixture – work in batches and add broccoli cooking liquid slowly to ensure puree does not become too thin – you may not need to use all the cooking liquid.
Cook the Pork and Assemble the Dish:
Preheat a grill or a large heavy pan over high heat. Cook the pork shoulder steak on both sides – 3-4 minutes per side for medium to medium rare. 
Once pork shoulder is resting, brush with the cilantro crema and top liberally with the pumpkin seed topping.
In a hot pan, sautee the broccoli florets and baby bok choy in olive oil until tender, 5-7 minutes. Season to taste with salt and lime juice. 
To assemble the dish, place puree in the bottom of a large plate and use the back of a spoon to spread into a uniform puddle. Top with the pork shoulder steak, garnish with mint and cilantro leaves and serve with more cilantro crema and lime wedges alongside.