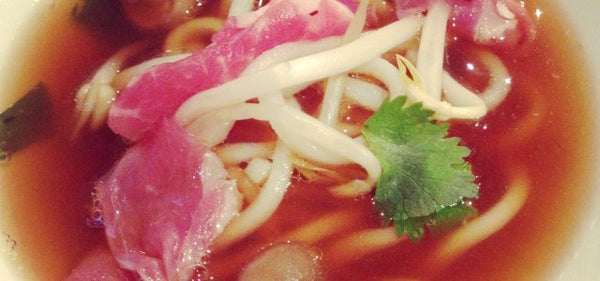 Goatober Recipes with the Astor Center & Momofuku ssäm bar
We celebrated Goatober with our friends at the Astor Center and Momofuku ssäm bar. Matthew Rudofker, Chef de Cuisine of Momofuku ssäm bar, did a whole goat butchering demonstration for a group of hungry diners.
He then cooked up two delicious dishes with goat for us to sample and try in our own homes. If you missed the feast, enjoy some of the recipes from Momofuku ssäm bar.
Chef Matthew made a enticing Goat Pho that you can try at their restaurant or at home with the following recipe:
Ingredients:
Bones from one whole 30lb goat
1 goat loin
4 onions, split and charred
4 heads of garlic, split and charred
4 1-inch of ginger split
4 T kishibori shoyu
4 T high quality mirin
1 tsp black peppercorn
2 pieces star anise
5 pieces clove
3 pieces dried chili
Shanghai noodles
For garnish:
Cilantro
Thai Basil
Bean sprouts
Hon shemeji mushrooms
Directions:
Roast the bones
Cover with cold water and simmer for six hours
Add onions, garlic, and ginger. Simmer for another hour
Strain
Add the shoyu, mirin, peppercorn, star anise, clove, and chili to the stock and allow to infuse for one hour on very low heat
Thinly slice the loins and arrange in a bowl
Garnish the bowl with picked cilantro, thai basil, bean sprouts, hon shemeji mushrooms, and shanghai noodles
Pour the hot broth over
You can also celebrate Goatober with one of the Momofuku ssäm bar's signature dishes, the Goat Ssäm which serves 6-8 people. 
1 whole bone-in goat leg
1 cup granulated sugar
1 cup plus 1 tablespoon kosher salt
7 tablespoons light-brown sugar
Accompaniments:
Optional
12 oysters, shucked, for serving
Put the goat leg in a roasting pan, ideally one that holds it snugly. Mix together the granulated sugar and 1 cup of the salt in a bowl, then rub the mixture into the meat; discard any excess salt-and-sugar mixture. Cover the pan with plastic wrap and put it in the fridge for at least 4 hours, or overnight.
Heat the oven to 300⁰F. Remove the goat from the refrigerator and discard any juices that have accumulated. Put the goat in the oven and cook for 6 hours, basting with the rendered fat and pan juices every hour. The goat should be tender and yielding at this point – it should offer almost no resistance to the blade of a knife and you should be able to easily pull meat off the shoulder with a fork. Depending on your schedule, you can serve the goat right away or let it rest and mellow out at room temperature for up to an hour.
When ready to serve – sauces are made, oysters are ready to be shucked, lettuce is washed, etc. – turn the oven to 500⁰F.
Stir together the remaining 1 tablespoon salt and the brown sugar and rub the mixture all over the goat. Put it in the oven for 10 to 15 minutes, until the sugar has melted into a crisp, sweet crust.
Serve whole and hot, surrounded with the accompaniments.