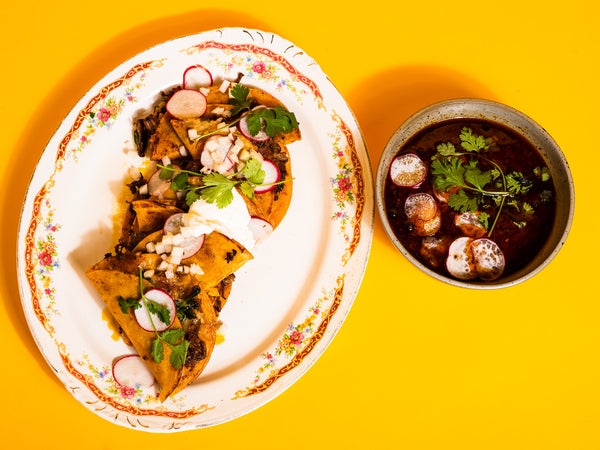 Goat Birria
There are so many ways to prepare goat, the most widely consumed meat on the planet. We love this recipe for goat birria but there is no wrong way to prepare goat! Our goats are not gamey and can grilled or braised. Goat meat is sold throughout the year at Heritage Foods, but the harvest is in October, the natural season for consuming goat which is a seasonal; animal that reproduces in the winter, births in the Spring and is ready for eating in the fall, after fattening up on summer grasses.
Ingredients:
5 pound

goat shoulder

4 guajillo peppers, deseeded 

2 ancho peppers, deseeded

4 pasilla de Oaxaca peppers, deseeded

Cloves from 1 head of garlic, peeled

1 medium onion, diced

½ bunch of cilantro, roughly chopped

Salt to taste

1 medium carrot, diced

3 stalks of celery, diced

1 cup of ginger, roughly chopped

1 tablespoons whole allspice 

½ nutmeg, grated

3 cinnamon sticks (or Mexican canela if available)

3 bay leaves

2 tablespoons dried Mexican oregano

¼ cup of mezcal

4 plum or Roma tomatoes

½ cone of piloncillo, grated (Mexican cane sugar)

¼ bunch of epazote, roughly chopped

Sherry vinegar to taste

Oil for searing

Optional garnish: diced white onion, chopped cilantro, and sliced radish
Preparation:
Soak deseeded peppers in hot water for 30-45 mins until soft, drain and save some of the soaking liquid.
Meanwhile, debone the goat shoulder and cut meat into large chunks, save the bones to roast for stock later or include in the Birria for added flavor to the consome.
In a food processor, combine peppers, garlic, onion, cilantro, a large pinch of salt, and sherry vinegar and blend until smooth, adding some of the pepper soaking liquid as needed to thin.
In a gallon sized zip top bag or container with a lid, coat the goat with the pepper mixture (adobo) and marinade overnight.
In a large heavy bottomed pot over medium-high heat, sear the goat pieces in batches in about 2 tablespoons oil until brown on all aside and set side. Save the rest of the marinade to add to the pot next.
Add the carrots, celery, and ginger and sweat until soft, about 5-7 minutes.
Add the rest of the marinade and spices (allspice, nutmeg, cinnamon sticks, bay leaves, oregano) and cook for 2-3 minutes until the cooking oil turns red and very aromatic. 
Deglaze the pan with the mezcal, bring to a boil and reduce by half while scraping fond off the bottom of the pan.
Add the tomatoes, and return the goat to the pot, cover with stock or water, bring to boil, and reduce the heat to a simmer. Cook for 2-3 hours or until the goat is very tender. 
Serve as birria tacos with diced white onion, chopped cilantro, and radish slices to garnish; tortas with the broth to dip on the side; or enjoy the consome alone as a stew.