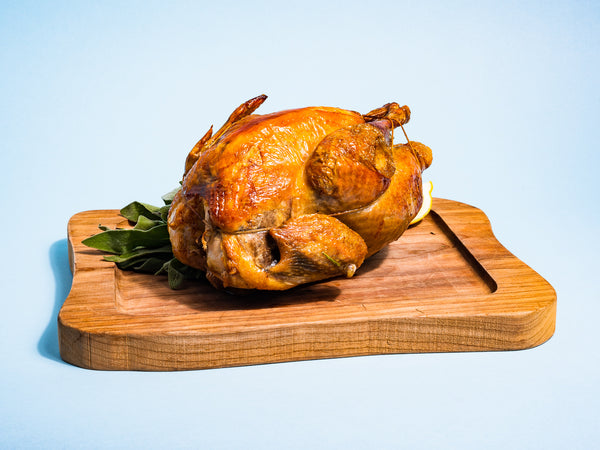 Ghee Rubbed Guinea Fowl
By Pervaiz Shallwani
This recipe began in a more basic form more than 20 years ago in college. Me and three roommates, freed from dorm life and living in our first ever apartment, cooked our first turkey for what Americans call "Friendsgiving," a Thanksgiving-like gathering of friends that takes place usually a week or two before we do it all over again with family.
The bird was stuffed with citrus, onions, and garlic and rubbed with salt and butter. There was probably some parsley and possibly even thyme. There were plenty of bloopers including a hair dryer to thaw the still frozen cavity (definitely do not do that). Shenanigans aside, it was damn good. 
Over the years the recipe has evolved, though, honestly not that much. There have been wet brine and dry brine and spatchcock versions. Butter has gone under the skin. We found the recipe also works excellent with chicken.
A few years ago, in need of using some leftover ghee, the South Asian equivalent of clarified butter made its way onto the bird, filling the house for hours with the smell of drawn butter and citrus and thyme. One year, I placed fresh curry leaves on the skin, peeled them off when they were crisp and crushed them into a powder that was sprinkled on the carved meat. 
When asked by Heritage to create recipes for guinea fowl, it only made sense to give ghee, citrus, and thyme rub the good ol' college try. The result, another delicious bird and a butter scented home.
Note: You can find ghee at most grocery stores and online, or make your own. Unlike butter, the milk solids are removed so it doesn't burn the same way. Use it to sear steak, fish, or chicken breasts.
Ingredients:
Kosher salt for dry rub

1 cup of softened ghee

1 lemon, zested and halved

1 orange, zested and halved

1 small or medium onion, halved

1 large head of garlic, halved

Butcher's twine for trussing the fowl

Several sprigs of thyme, plus about 1 tablespoon of minced thyme leaves 
Preparation:
Fully defrost guinea fowl in its bag. Remove neck, liver, and gizzards and reserve. Rinse the bird including the cavity and dry thoroughly using paper towels. Remove any excess large clumps of fat. Place the bird on a roasting pan lined with a wire rack and dry brine by liberally salting skin and cavity.
Let the bird rest while you prepare ghee rub or place in the fridge up to 24 hours in advance. Letting it sit helps dry out the skin and allows salt to penetrate the meat.
Turn an oven to 400 degrees and make sure the rack is sitting at a level with enough space for the roasting pan and the bird to fit without sitting too close to the top of the oven. 
For the rub, place softened ghee in a bowl, add lemon and orange zests and thyme, and mix together. Slather ghee rub all over the guinea fowl, making sure to get under the wings and legs.
Place halved lemon, orange, onions, garlic, and thyme sprigs in the cavity of the bird. Using butcher's twine, truss the bird and place in the oven.
Cook about 50 minutes, checking about 30 minutes into the cooking process to make sure the bird is not burning. If it's too dark, tent with foil. Using a meat thermometer check the thickest part of the bird to make sure it is done, about 160 degrees. The temperature will continue to rise while it rests.
Let rest for about 10-15 minutes to allow juices to evenly distribute before cutting.
Pervaiz Shallwani is an award-winning journalist and trained chef based in Brooklyn, where he runs a hot dog popup called "Chaat Dog" — a mashup of his Chicago upbringing & Pakistani heritage — and a Substack called "Stinky Lunch Kids Strike Back: The story of American food." His approach to cooking: learn the rules and then use that knowledge to break them. He promises to eat anything (edible) at least once.