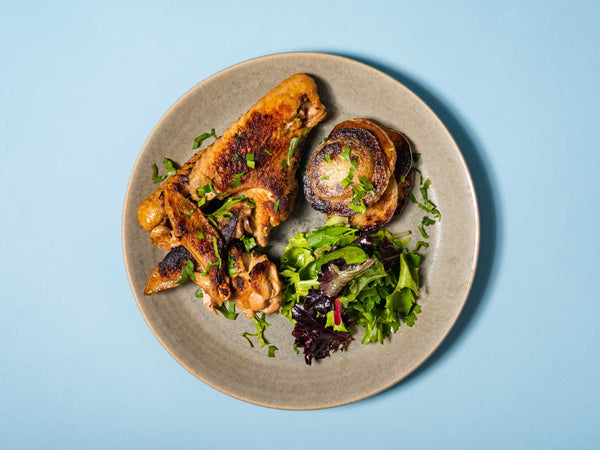 Confit Crispy Turkey Wings with Pommes de Terre à la Sarladaise
Our favorite way to prepare heritage turkey wings is to tenderize them by cooking them slowly to break down the connective tissues and tendons. We cure our meaty wings for two days then cook them in fat with herbs and garlic thus infusing the meat with delicious flavor and, finally, sear them in a pan to get the skin crispy. We love the large turkey wing as a substitute to the more traditional confit leg of duck.
Ingredients:
2 heritage turkey wings

½ cup Kosher salt

¼ cup light brown sugar

¼ cup granulated sugar

¼ cup pink peppercorns

1 head of garlic (split in half)

2-3 sprigs thyme

2-3 sprigs rosemary

1 bay leaf 

2 cups duck fat, olive oil, chicken or turkey schmaltz (or any combination of these) 

3 Yukon Gold potatoes, sliced into ⅛" thick coins, rinsed thoroughly in a bowl of cold water and dried well.

¼ cup minced chives
Preparation
:
Remove turkey wings from the fridge. Pat dry and place on a sheet pan with a wire rack.
In a medium mixing bowl, combine salt, light brown sugar, granulated sugar, and pink peppercorns.
Cover turkey wings with the cure mixture and place in the fridge overnight or for up to 2 days.
Tie the herbs (thyme, rosemary, and bay) together with butcher's twine.
Preheat an oven to 225-250F.
Remove turkey from the fridge, brush off any excess cure, and set aside.
In a small dutch oven or a deep saute pan with a lid, warm your fat of choice gently until melted (if using duck fat or schmaltz) and place in turkey wings (if the wings are not fully covered add more olive oil to cover fully). Cover the pan with a piece of parchment and then the lid and place in the oven for 45 mins to 1 hour, until the wings are tender but not falling apart. Remove wings and set aside. Reserve the flavorful cooking fat for later use.
Preheat a large cast iron skillet over medium-high heat with a couple of tablespoons of the reserved cooking fat and sear the wings until the skin is golden brown and crispy. Set aside on the serving plate.
In the same pan over medium heat, add more reserved cooking fat if needed so there is about 2 tablespoons in the pan. Place the potato slices in the pan and cook until golden brown and tender on both sides. Remove to a plate lined with paper towels to drain excess fat and season with salt and pepper.
Serve potatoes with crispy wings and garnish with minced chives. You could also pair this with a bright herby green salad.