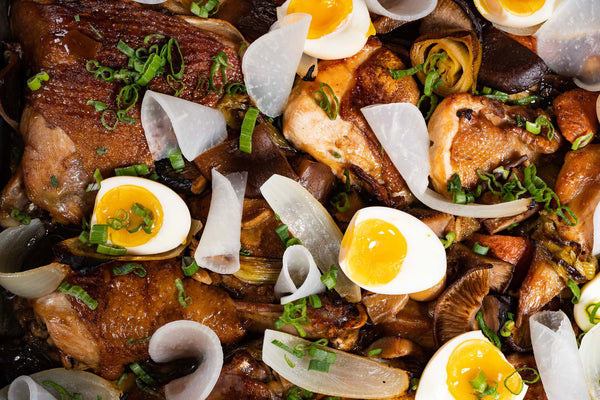 A Variation on Chicken Oyakodon Recipe
This is a variation of the traditional Japanese comfort food Oyakodon, a chicken and egg rice bowl. Heritage chickens are exceptional when cooked low and slow, and this traditional braise celebrates the qualities that make these heritage chickens so unique.
Ingredients:
1x 5-6# chicken, (broken down into thigh, leg, flats with tips and drumette wings, and breasts cut in half)

50g kombu

50g katsuobushi (bonito flakes)

100g dried shiitake

3 medium carrots, cut into large obliques

3.5L water

1 large leek, Cut into ½" coins

1 large onion, peeled and partially sliced across 3 times into a "flower" with root still attached

2 bunches of scallions, whites left whole and greens sliced thin

1 head of garlic peeled and crushed

2" piece of ginger, peeled and sliced

½ cup mirin

¼ cup soy sauce

¼ cup fish sauce

6 soft boiled eggs, boiled for 6 mins in water with a 1 tsp baking soda and shocked in ice water and peeled

2 cups of cooked short grain rice, kept warm in a rice cooker

Pickled daikon radish (optional)

Togarashi(optional)
Preparation:
Preheat an oven to 450ºF. Place "flower" onion on a sheet tray drizzled with oil and salt and roast until charred. Cut the root off and completely slice through creating individually charred petals. Turn the oven down to 350ºF.
Meanwhile, Toast kombu over an open flame (lightly browned but not burnt). Place in a stock pot with water and bring up to a simmer for 10 minutes, remove from heat and add katsuobushi, let steep for 10 more minutes. Strain into a container and discard solids, or use again to steep a lighter flavor dashi for another recipe.
Add the strained dashi back to the stockpot, add the dried shiitake and bring to a simmer and cover for 30 minutes before straining back into a container. Cut mushrooms into bitesize 1/4ths, depending on size, and place in the bottom of a roasting pan.
Season chicken with salt liberally on both sides. In the same stock pot with two tablespoons of neutral oil sear chicken, working in batches, skin down first and then flip until both sides are browned and remove to the roasting pan with mushrooms.
In the same stock pot, char the scallion whites left whole to on either side and remove to the roasting pan.
In the same stock pot, add the rest of the veggies except the charred onion petals and let sit undisturbed until one side is nicely charred, stir to combine and remove to the roasting pan.
Deglaze the pot with mirin, reducing by half before adding the soy and the fish sauce. Return the strained mushroom dashi back to the pot. Bring to a boil, season with salt if necessary, and pour over the chicken and veggies until the liquid covers about half way up the side of the chicken. Reserve about 1 quart of mushroom dashi to marinate the eggs in a container.
Cover the roasting pan with foil and braise in the oven for about 50 mins. Remove the foil and add charred onion petals on top. Return to the oven and turn up to 450F for 10 minutes until nicely browned on top. Remove and serve chicken, mushrooms, veggies and sauce over rice and garnish with marinated eggs (sliced in half) with sliced pickled daikon, togarashi, and sliced scallions.