Tri-Tip Beef Roast Cooking Guidelines

The Tri-Tip is one of your butcher's best kept secrets: cut from the bottom of the sirloin but marbled like the most delicate hanger steak, this cut boasts a supreme, toothsome texture and a flavor profile that explodes with the herbs, love, and magic provided by Antonio Fiasche from 'Nduja Artisans. Although Calabria is at the very heart of Antonio's artistry, the alchemy he has created with garlic, scallions, and thyme gives this often-overlooked cut an Asian flair with a hint of soy flavor that puts it in a class of its own.The tri-tip has been lovingly smothered with these herbs and we can guarantee every bite delivers on its promise of bold, uncompromised flavor. It comes ready to rock, just sear it and finish it in the oven for about thirty minutes. It's as easy as that, but it's also versatile, check out our three favorites recipes below!
1. Take the roast out of the refrigerator an hour prior to cooking.
2. Preheat your oven to 450℉.
2. Season liberally with salt and pepper on all sides.
4. Sear on all sides in a hot pan until browned.
5. Move to a roasting pan lined with a rack and cook at 450℉ for 15-20 mins for an even crust.
6. Lower the oven temperature to 300℉ and check every 15 minutes until the roast reaches your desired internal temperature (130℉ approximately for beef and lamb to medium rare) The internal temperature will continue to rise slightly after leaving the oven. Let rest for 10-15 minutes before carving.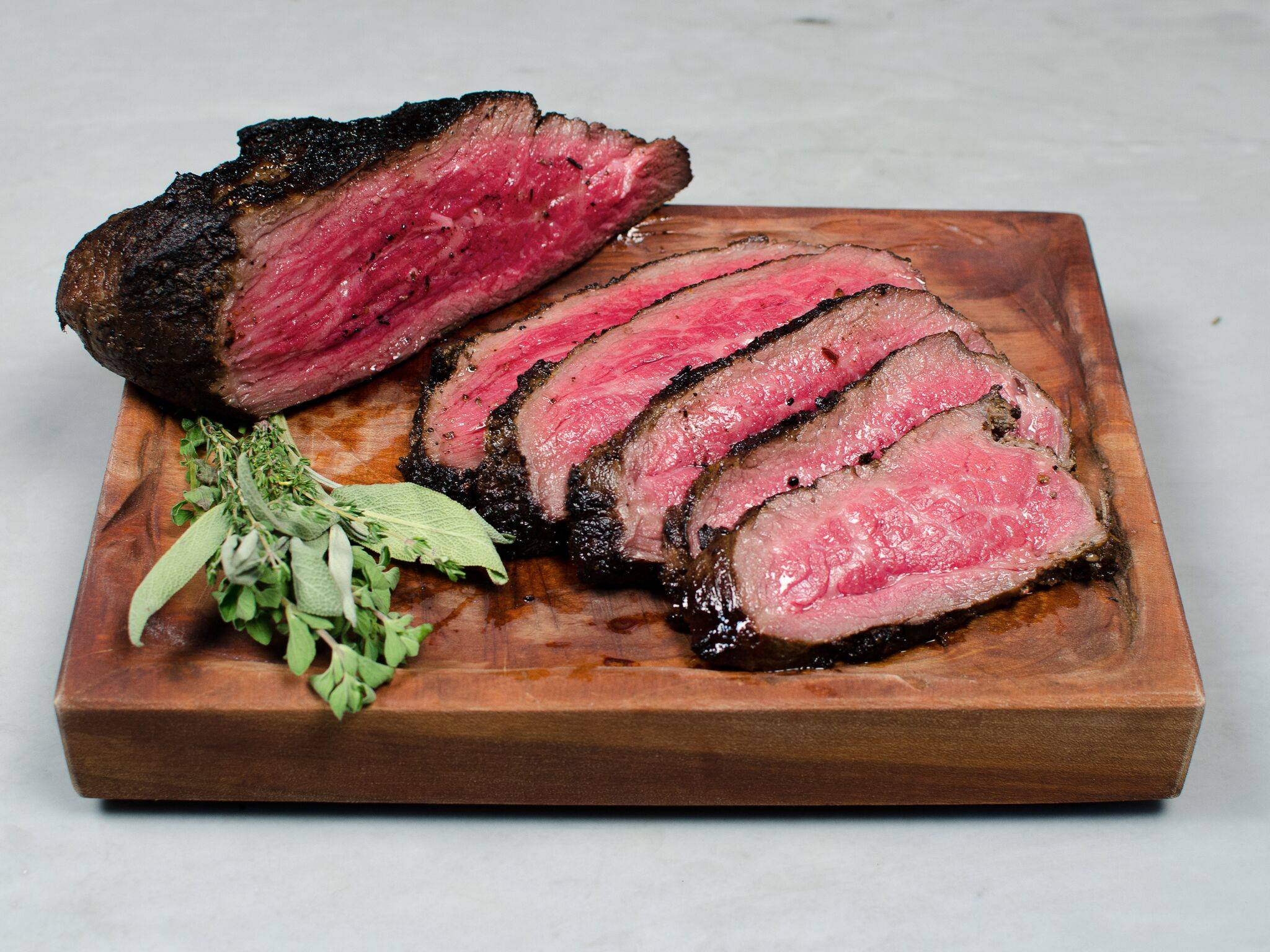 1. Slice the tri-tip against the grain into ¼ inch slices while it is still frozen.
2. Pour oil into a cast iron skillet over medium-high heat. When the oil is lightly smoking, place the frozen slices of meat into the pan. Spread them out around the surface of the pan so the slices are not touching. This way, you will sear the meat instead of steaming it. It's important to get a crispy sear to bring out the tri-tip's best flavors.
3. Flip the slices over after two minutes and cook for one more minute on the other side. Once the meat is cooked through, remove from heat.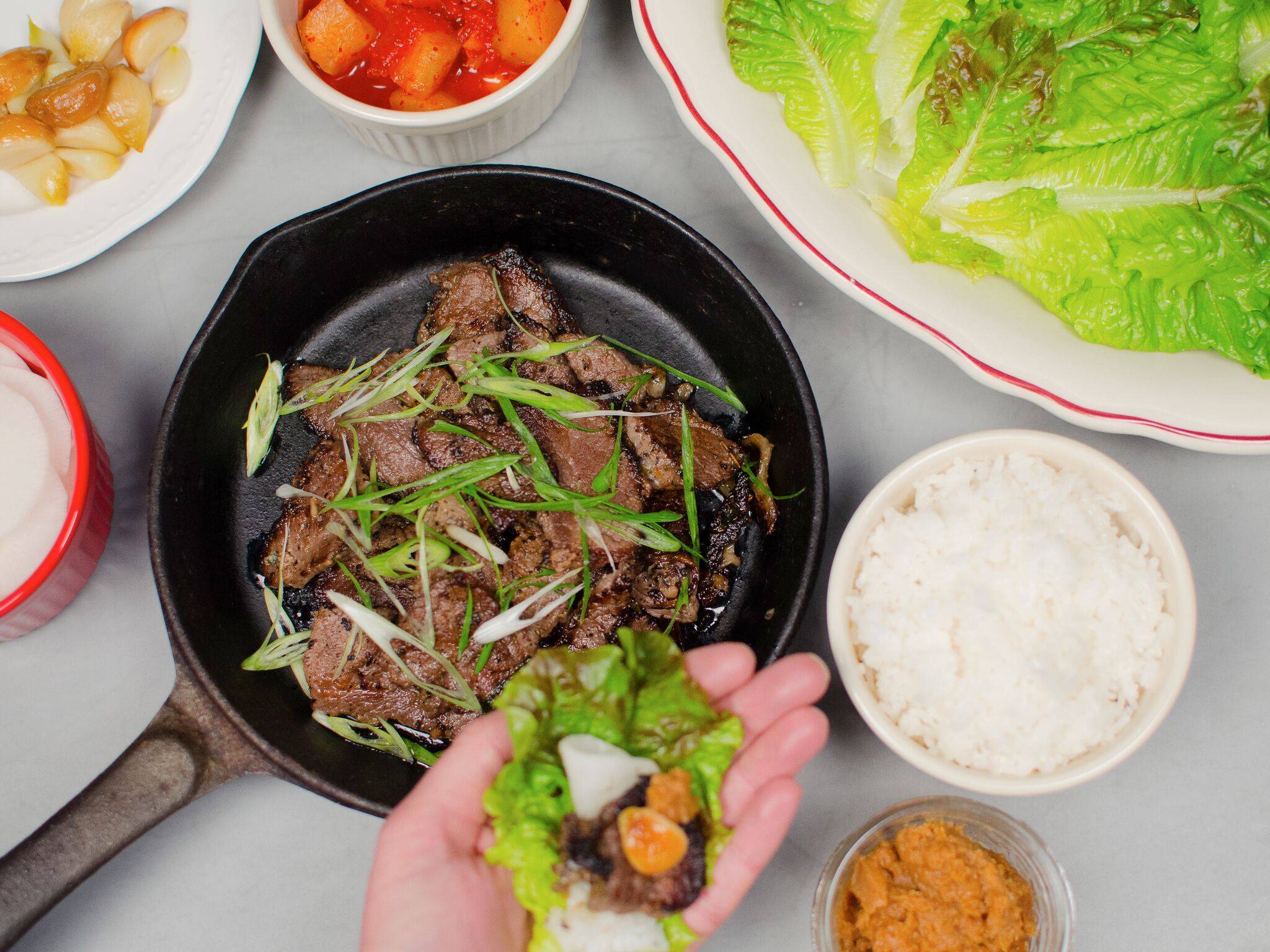 Ingredients:
1lb tri-tip beef roast
1 green bell pepper, cut into 1 inch squares
1 red onion, cut into 1 inch cubes
1 zucchini, cut into 1 inch rounds
2 Tbsp olive oil
Salt and pepper

To Prepare
1. Cut the tri-tip into 1 inch cubes.
2. Place your vegetables into a large mixing bowl and coat with olive oil, salt, and pepper.
3. Build your skewers. Start by putting vegetables on the skewer about ¾ of the way down. Continue to stack, interspersing the cubed tri-tip with vegetables.
4. Heat your cast iron or grill over a medium high flame. Once hot, place the skewers on with space in between each. This way, you will be able to get a nice char on the meat and vegetables without steaming. Cook the skewers for about 3 minutes on each side.
5. You'll know when the skewers are ready by taking the temperature of the meat. When it reaches 130ºF-135ºF, remove from heat, because it will continue to rise in temperature as it rests. Enjoy!